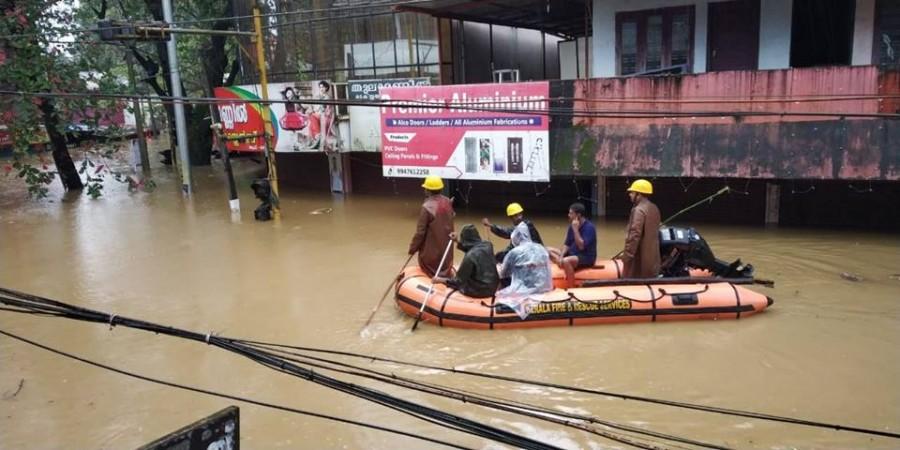 Malayalam actor Dulquer Salmaan and Oscar award-winning sound engineer Resul Pookutty urged national media and union government to consider the floods in Kerala a national calamity.
Kerala has been shattered by torrential rains, overflowing rivers and a series of landslides that have claimed lives of nearly 100 people. The state government is struggling to manage this tragic situation, which needs huge amount of funds, food, clothes and other stuff for routine livelihood. Chief Minister Pinarayi Vijayan has already requested countrymen for their support in rebuilding the state.
Some people have come forward to donate money and other stuff for the flood-hit victims in the state. Thanks to the southern media houses, which have done a wonderful job in spreading awareness about CM Vijayan's request. But this relief material is not enough to handle the present situation.
The central government is also doing whatever best possible in its capacity, but is yet to announce the floods as national calamity. In this need of hour, the national media coverage of the scene in the state can bring in more number of people from across the country to extend their support for the victims of the state.
Hence, actor Dulquer Salmaan requested the national media for extensive coverage of this issue and spread awareness among the people of the country. The son of Mammootty tweeted, "Urging and requesting the #nationalmedia to focus and draw attention to #keralafloods !! Each day is looking more grim for millions "
Resul Pookutty tweeted two photos featuring Kochi Airport submerged in water and wrote, "My dear #NationalMedia this is #KochiAirport as of now! Do you all have any idea the extend of #KeralaFloods still it's not a #NationalCalamity! My #Keralites we have to deal with this on our own! Jai Hind!"
Tamil actor Siddharth tweeted, "The same sense of anger and abandonment. #Kerala is today where #TamilNadu was in 2015. Wake up #India #GodsOwnCountry is sinking. They need help. We can each make a difference. Starting with the #NationalMedia Let's talk about #KeralaFloods more. Much more."
However, Kerala Chief Minister tweeted, "A team of military ETF has arrived in Thiruvalla for rescue operations. #KeralaFloods. 23 more helicopters will join rescue operations tomorrow. 200 more boats will also be part of it. Those who are stranded will be relocated to safer zones from tomorrow morning. #KeralaFloods2018"
CM Vijayan added, "Alert: All districts apart from Kasargod are under red alert. The Meteorological Department warns that heavy rains may affect these 13 districts. Everyone please be cautious. #KeralaFloods CM Pinarayi Vijayan spoke to Prime Minister Narendra Modi. PM inquired about the flood situation. In many places, the rains continue to remain strong and therefore a serious situation exists. @PMOIndia #KeralaFloods"