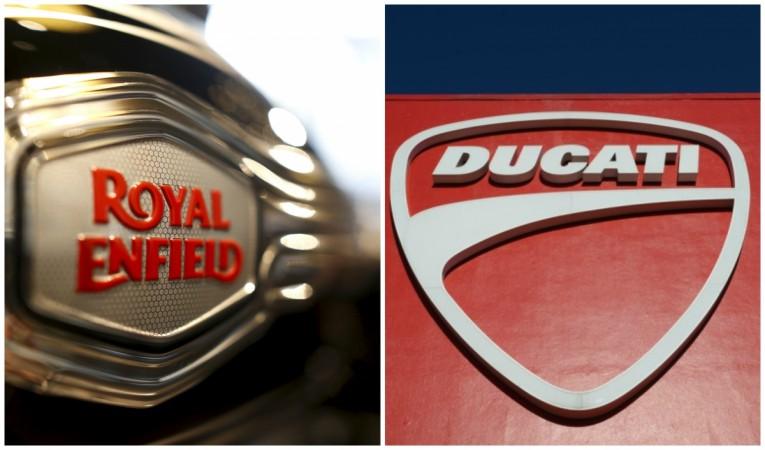 Reports on the possible sales of the Italian motorcycle brand Ducati by renowned German automaker Volkswagen have being doing the rounds with India's two-wheeler brand Hero MotoCorp said to be weighing its options to acquire the brand. A week after we reported the same, the sale of Ducati is back in the news. Chennai-based niche motorcycle-maker Eicher Motors' Royal Enfield has reportedly entered the fray.
Citing sources at Eicher Motors, a report in the Times of India claimed the company is looking at the terms of acquisition and the pricing of the brand. Royal Enfield is in the process of expanding its market shares in Europe, North America and Asia. It does not come as a surprise the niche motorcycle maker is evaluating brand Ducati to see if it fits in its operations.
Earlier reports alluded to German automaker Volkswagen (VW) reaching out to potential buyers for Ducati and had even assigned Evercore to evaluate possible options to streamline operations to help fund a strategic overhaul. VW is said to be planning to forgo some of its non-core businesses such as Ducati or a diesel engine business to get back on track after the German group was hit by the dieselgate scam. VW-owned Audi acquired Ducati for around 860 million Euros (over Rs. 6,000 crore) in 2012 and currently the superbike brand stands at a rough valuation of 1.5 billion Euros, which is almost 15 times of its core earnings.
Royal Enfield has been posting an easy ride in the Indian market for the past couple of years even at a time when most of the automakers are struggling to make a turn around. In April, Royal Enfield recorded its highest-ever monthly sales with a whopping 6.6 lakh motorcycles sales, a growth of nearly 32 percent compared to the previous year's returns.
Source: TOI