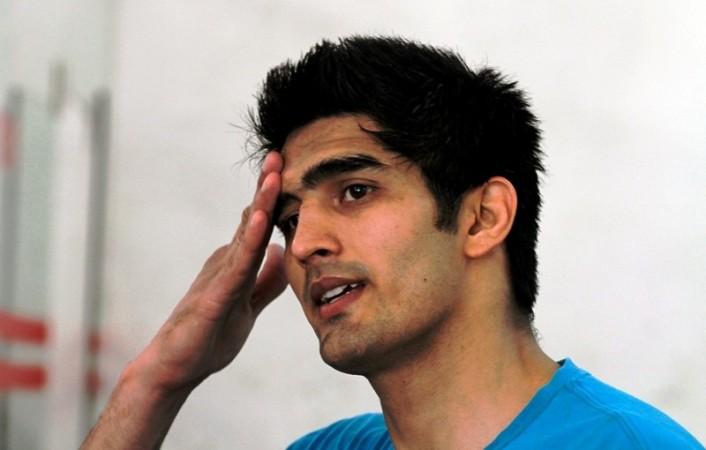 Olympic medallist Vijender Singh has taken drugs nearly 12 times between December 2012 and February 2013, according to police.
Based on their investigation, police have found that Vijender knew the alleged drug dealer, Anup Singh Kahlon, and had spoken to him on phone at least 80 times. They said Ram Singh, a national-level boxer, as well as Vijender took heroin from Kahlon for personal consumption.
On 3 March, Fatehgarh Sahib police arrested Kahlon, a Canada-based NRI, and seized drugs worth crores from a flat in Mohali. An SUV registered in the name of Vijender's wife Archana was found parked outside Khalon's house. During interrogation, Kahlon claimed that both Ram Singh and Vijender Singh were his regular clients. On questioning Ram Singh, he confessed that he and Vijender started taking small quantities of heroin on a few occasions.
Vijender denied any links with Kahlon and stated that his name was being misused. So far, he had refused to give his blood and hair samples for forensic tests. The police have decided to file a plea in court to get his samples, in a bid to forensically confirm that Vijender took drugs.
However, police ruled out that the boxers will be arrested as they have not recovered any drugs from them. "As per investigation conducted so far, Vijender Singh consumed the drug about 12 times and Ram Singh about five times. However, they did not actively connive with the smugglers in their activities and nothing was recovered from them - as such both of them are not being arrested in the case at this stage," a police spokesman said on Sunday, according to Indo-Asian News Service.
Until now, 15 persons including two Canadian and one UK citizen have been arrested in connection with the drug racket. More than 25 others who are involved in the case are still absconding. Police teams have been sent to UP, Delhi, Mumbai and several parts in Punjab to catch the absconders.