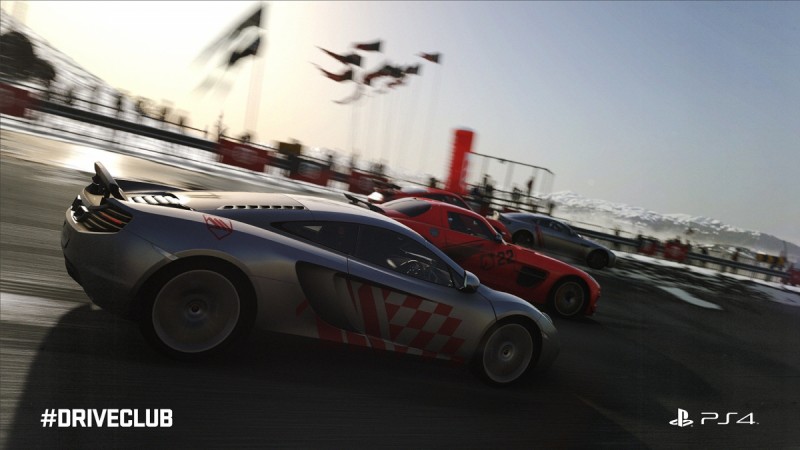 Evolution Studios' DriveClub, the racing game title has revealed the details of the upcoming February update 1.11 that will improve the game and bring in new features.
The company has revealed that this update is more likely to roll out between 24 -26 February, 2015 and will feature a new multiplayer mode called Team Time Trial, two variants of Kobago track, several add-ons and several performance improvements.
DriveClub was released on 7 October, 2014 exclusively for PlayStation 4 with Sony Computer Entertainment as its publisher and Evolution Studios looking after its development.
After its release, the game had server problems leading to the delay in rolling out the exclusive edition of DriveClub for PlayStation Plus. The game was unplayable for many following its release. But later patches have bettered the issues it faced during its release. However, players had to deal with several delays.
Below are the full patch notes for DriveClub's February update 1.11 (DriveClub Facebook):
Update 1.11 Details
Adds a new Multiplayer game mode: Team Time Trial.
Adds a new track offering 2 variants: Kobago in Japan.
All add-on Tours have new progress requirements: You need 8 Stars (previously 12) to progress to the second stage and 22 Stars (previously 27) to open up the final Championship.
Adds the ability to choose from a collection of factory Paint Jobs during vehicle selection prior to an Event.
Adds the option to enable the Rev Counter in cockpit view.
Decreases the threshold on the manumatic downshift limiter to allow players to downshift earlier.
Reduces the drying time for rain splatter on the screen when in Chase Cam.
Implements ghosting under certain conditions in Multiplayer races to prevent track blocking.
Allows the 'Contender' and 'Unbeatable' Trophies to be unlocked even if the challenges expire when you are not online.
Includes a number of minor bug fixes, performance improvements and usability tweaks.
Update 1.11 Add-Ons Support
Adds support for the VUHL 05, coming to PlayStation Store as a free download.
Adds support for the Downforce Expansion Pack, coming to PlayStation Store as a premium/Season Pass add-on.
The Downforce Car Pack includes: Ferrari F50, Chevrolet Corvette Z06 Centennial Edition, SRT Viper GTS, Koenigsegg One:1 and Jaguar F-Type R Coupé.
The Downforce Tour Pack includes 11 new Events and 5 new Trophies.
Adds support for the Midnight Tour Pack, coming to PlayStation Store as a premium/Season Pass add-on.
The Midnight Tour Pack includes 11 new Events and 5 new Trophies.
Adds support for 2 new livery packs, coming to PlayStation Store as a premium/Season Pass add-on. Each Livery Pack contains 5 new livery patterns to customize your cars with.
Evolution Studios has also revealed that the game could see the following update sometime in the future:
Server Upgrades – To improve stability and performance for all current players and to enable the release of the PS+ Edition and DriveClub companion app.
Private Lobbies – Development of Private Lobbies for Multiplayer is ongoing alongside development of server upgrades.
Replays – Are in the final stages of development and testing. It's likely that offline replays will come ahead of Multiplayer replays.
Changes to Drift Scoring – To ensure that you are rewarded for momentum, control and staying on the track in drift zones.
Lots More Cars – We can't say what's coming just yet, but many of your most commonly requested cars and manufacturers are coming to DriveClub, along with a few surprises.
New Ranks – Because many of you are at Level 50 already.
Lots More – Please keep sharing your feedback about DriveClub with us to help the game continue to evolve around you.
(YouTube Courtesy: PhenomEvolution)
Free PS4 Edition is in Development
Following server issues during the release of DriveClub, the developer had to delay the promise of a free and exclusive edition for PlayStation Plus members indefinitely. It has now revealed that this version has not been cancelled and only been delayed. It also confirmed that it is still in development.
The developer revealed that it is working on the PS4 PSplus version. It replied to a fan question saying, "We're getting there, but there's still a lot of server development needed to support the PS+ Edition."
The PlayStation Plus edition will feature one location, 11 tracks, 10 cars and all the game modes in the regular game.
Double Fame Events Weekend
Evolution Studios has revealed in its Twitter page that it will be conducting Double Fame Events weekend that ends on 12:00 GMT, 16 February. 2015
Rank up quicker in #DRIVECLUB this weekend! DOUBLE FAME events available all weekend. Ends Monday 12:00 GMT pic.twitter.com/WH3IefgFoJ

— DRIVECLUB (@DRIVECLUB) February 13, 2015