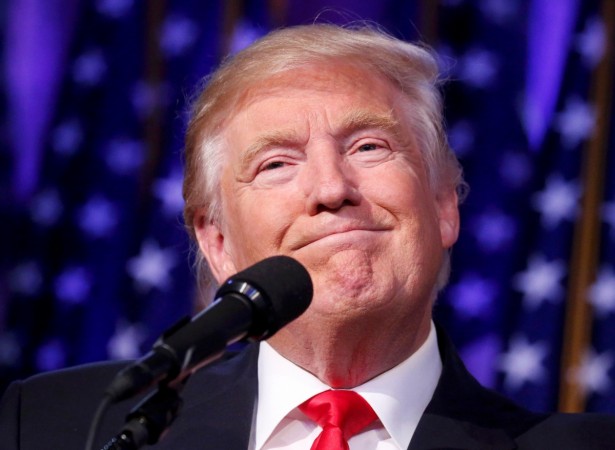 United States President-elect Donald Trump is not too happy about some US senators' suggestions that Russia should be slapped with more sanctions for its alleged involvement in hacking during 2016 US elections. In fact, Trump doesn't consider the Russians or even Russian President Vladimir Putin to be at fault for the hacking. He would rather put the blame on computers.
The Republican billionaire on Wednesday said that people should just move on from the elections hacking case and should blame the computers and technology for being so complicated.
Read: Obama says US will retaliate against Russian hacking as RNC claims it foiled infiltration
"I think we ought to get on with our lives. I think that computers have complicated lives very greatly. The whole age of computer has made it where nobody knows exactly what is going on. We have speed, we have a lot of other things, but I'm not sure we have the kind the security we need," Trump said according to press pool report. He was at the Mar-a-Lago resort at the time of making the statement.
Various US intelligence agencies have stated that there was a clear involvement of Russia, particularly Putin, in the hacking of the Democratic Party's emails.The Central Intelligence Agency (CIA) had concluded in a secret assessment that Russia was intervening in the US elections and was attempting to assist Republican candidate Donald Trump win the presidency.
The Russian efforts reportedly included hacking the emails of the Democratic National Committee and Hillary Clinton campaign chairperson John Podesta. The emails were later provided to WikiLeaks, which made them public.
Reacting to the alleged interference of the Russian leader in the American elections, South Carolina senator Lindsey Graham on Wednesday had said, "There will be bipartisan sanctions coming that will hit Russia hard, particularly Putin as an individual."
When Trump was asked about Senator Graham's suggestions of imposing sanctions against Russia, the President-elect said, "I don't know what he's doing. I haven't spoken to Sen. Graham. ... [A]s you know, he ran against me."
Putin had favoured Trump in the US elections, calling him "bright and talented". He, however, was against Clinton's candidacy and considers her a Russian foe who incited protests in the nation after the 2011 Russian elections.
Trump had dismissed the allegation by the CIA of Russian involvement saying, "I think it's just another excuse. I don't believe it." He also shares a close relationship with the Russian leader. The Republican, during his presidential campaign, had praised the Russian leader and has resisted all the criticism against Russia throughout the election season.
"Nobody really knows, and hacking is very interesting. Once they hack, if you don't catch them in the act you're not going to catch them. They have no idea if it's Russia or China or somebody. It could be somebody sitting in a bed someplace. I mean, they have no idea," Trump said on Fox News Sunday earlier this month.