A fatal tragedy rocked the world of Mixed Martial Arts (MMA) Saturday night. Donshay White, an amateur fighter, succumbed to injuries during his fight against Ricky Muse at the Hardrock MMA 90 show in Louisville, Kentucky.
A barrage of ground-and-pound from Ricky left the referee Gary Copeland with no other option but to stop the fight in two minutes and 22 seconds in the second round.
White fell unconscious and received medical attention in the octagon. Soon after, he was given CPR and then, transported to the KentuckyOne Health Sts. Mary & Elizabeth Hospital on the July 15 night. He breathed his last later in the hospital.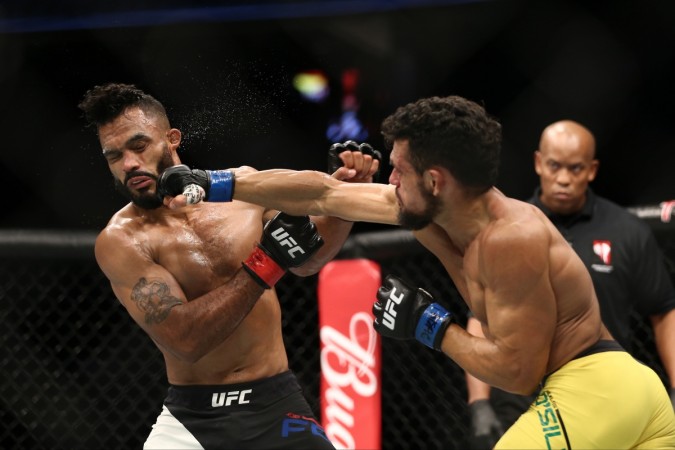 It has to be noted that only last month, a major tragedy rocked the boxing world as well when former UFC fighter Tim Hague died of a brain hemorrhage after getting knocked down five times during his boxing bout against Adam Braidwood in Canada.
A barrage of blows to the head left him brain dead and although, he was swiftly transported to the hospital, Hague slipped into a coma and died.
The question we ask now is if combat sports, especially the one that involves a lot of striking, is getting scarier by the day, with so many tragic incidents coming up almost every day?
Before you answer you opinion in the comments below, let us try and look into three aspects:
More protective gears in pro boxing/muay thai/MMA fights
Truth be told, there is a difference between amateur and pro boxing for a reason. One may debate that MMA and muay thai would look absolutely ridiculous with protection gears, especially a head gear, we can't but help mention that with the growing number of fatalities happening, this could be one change that may come as a hidden boon to the fighters.
How about having protection gears only in the not-so-popular MMA events that are not the UFC or Bellator? Same goes for pro boxing.
The ring rust proves to be really costly
It has to be noted that Donshay White didn't even get into a competitive fight inside the octagon since November 2015, and that is a very long time, unless you are someone like Anderson Silva or Jon Jones.
The ring rust crops up after only a month of a competitive fight and that is something most fighters, from time immemorial, have found hard to challenge. The fitness levels, for the lack of motivation, come to a low and the need to stay in total hardcore shape also doesn't arise.
Organising frequent workshops for combat sports referees
Veteran referees like even Herb Dean of the UFC have received plenty of criticism for their lack of awareness when it comes to stopping the fight and when to keep it continuing.
In the Tim Hague fight in June, the referee waited until five knockdowns inflicted on Hague to finally decide on stopping the fight. Hague was knocked down thrice in the first round and twice in the second round. The referee was criticised for his slow judgement.
The prospect, thus, of educating referees on a frequent basis about how to handle the fighters during the fight, could be indeed the need of the hour.
What exactly needs to be done to make combat sports safer? Give your thoughts and opinion in our comments section below.