Former UFC heavyweight fighter Tim Hague died on Sunday, June 18, in Edmonton, Alberta, Canada, owing to severe brain injury. The 34-year-old combat athlete, who bid goodbye to his Mixed Martial Arts (MMA) career in July 2016, suffered a series of major knockout blows during his boxing match with Adam Braidwood.
As a result, Hague was left brain dead following the fight on Friday night.
He was rushed to Royal Alexandra Hospital in Edmonton, but after a day, Hague slipped into a coma and was declared dead on Sunday.
"It is with incredible sadness, sorrow, and heartbreak to report that Tim has passed away today. He was surrounded by family, listening to his favourite songs. We will miss him with so greatly," wrote Hague's sister Jackie Neil on social media.
Hague was going 21-13 in his MMA career, spanning ten years, while in pro boxing, he had a 1-3 record. His only win out of four matches in the UFC came against Pat Barry at UFC 98 in 2009. That was a submission victory via a guillotine choke.
Are referees in combat sports a complete joke now?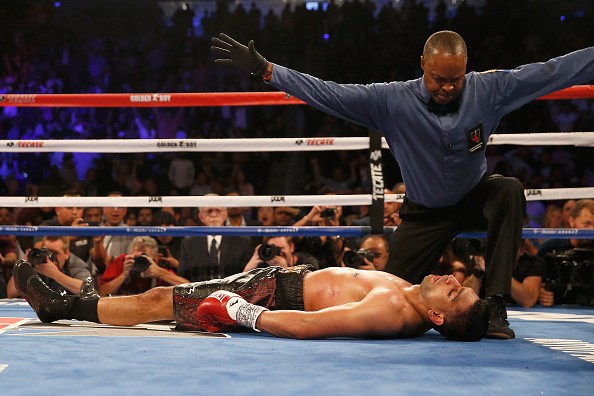 The fight between Hague and Braidwood, on Friday, was sanctioned by the Edmonton Combative Sports Commission. Questions now have been raised over the refereeing.
Hague was knocked down thrice in the first round and twice in the second round. Incredibly, it was a total of five knockdowns before the referee finally decided to stop the fight. Although the Edmonton Combative Sports Commission mentioned that a post-fight official review happens after every match, former Olympic boxer and referee Dale Walters clearly differs.
"When... I heard there were three knockdowns in the first round, I said the fight should have been over. Since seeing the fight, there was actually, he was down four times in the first round. One was declared a slip," mentioned Walters to Global News Canada.
"If I was refereeing that fight, then after three knockdowns, the fight would have been over. It didn't seem like he was in that much trouble after the knockdowns. It was just the punch that finally ended the fight was a big shot. The fact of the matter is boxing is a violent, brutal sport," the 53-year-old Canadian added.
As part of [our] combative sports protocol, a post-fight official review is conducted immediately after each competition.

Following the news that boxer Tim Hague is in critical condition after a professional boxing match on Friday, June 16, 2017, we have extended the request for reports to all referees, ringside judges, physicians, chief inspector, paymaster and the presiding inspectors assigned to the bout. We will determine the next steps following the evaluation of these reports.

Our thoughts and prayers are with Tim and his family.

- Statement by Pat Reid, executive director of the Edmonton Combative Sports Commission, on the fight.
Tim Hague wanted to be a real-life Apollo Creed?
Two of the saddest moments of the Rocky Balboa series, portrayed by Sylvester Stallone, remained the deaths of Rocky's coach Micky and Apollo Creed. Played by Carl Weathers, Creed knew what he was up for when he challenged the unreally-strong Ivan Drago in Rocky 4.
We all know what happened in the fight.
Hague's friend and corner man Victor Valimaki, who was present during his fight on Friday at the Shaw Conference Centre, mentioned that Hague, despite knowing he was at a disadvantage against Braidwood, persisted on his 'never give up' spirit.
"We're fighters — we knew what he got in for," Valimaki said. "He did take some damage — it probably could have been stopped quicker, but in the heat of the moment, when you're in there, you never know," he added.
"Knowing Tim, the ref is talking to him saying, 'Are you OK? Do you want to keep going?' and he's saying, 'Yes.' He's not going to quit. He showed a lot of heart. This is what he loved doing," he said.
Valimaki further said: "He's a fighter right to the end, that guy. Braidwood is kind of the top heavyweight boxer in Canada right now, and I know Tim wanted to challenge himself and he begged the promoters for the fight. I know that's one of the reasons Tim was taking these fights... he wanted to put some money in the bank for his son, for his future."
"He was a great dad. That's what people will point out about him... I'm devastated for his son Brady. I couldn't even imagine what the family's going to go through," he lamented.