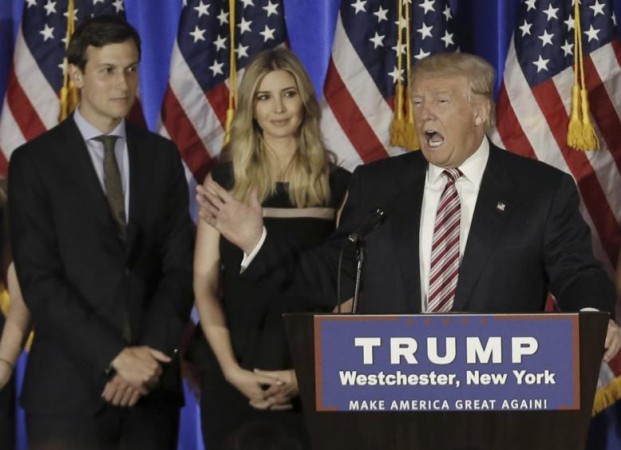 US President-elect Donald Trump on Tuesday requested a security clearance for his son-in-law Jared Kushner to receive the top secret President's Daily Brief along with him. The move is unprecedented as the President's Daily Brief are the most confidential security information and are only meant for the select top officials of the nation.
According to the Central Intelligence Agency (CIA) website, President's Daily Brief contains the Directorate of Intelligence's highest level intelligence analysis targeted at the key national security issues and concerns of the President. The PDB is given only to the President, the Vice President, and a very select group of Cabinet-level officials designated by the President.
Reports state that Trump received his first presidential briefing as per norm on Tuesday. Trump received the same briefings as US President Obama, the process is a part of US tradition to facilitate a peaceful transition from one presidential administration to the other.
However, Trump on Tuesday assigned Kushner and retired Lt. Gen. Michael Flynn as his staff-level companions to join him for the presidential briefings in the future, according to NBC News. Although Flynn reportedly has the necessary security clearance, Kushner does not.
It is still unclear whether Kushner will receive the required security clearance or not. Trump's request has raised several questions about whether the President-elect is breaching the anti-nepotism law. The law in question bars the US President from appointing family members to cabinet positions in the government or any formal government jobs.
The law was designed to prevent nepotism in the government and to bar the US President from using their federal power to their personal benefit.
Bradley Moss, a national security lawyer and a clerk for the National Security Archive, said that giving security clearance for a "child or family member" is unprecedented. "You can't hold a security clearance as an informal advisor — there is no such concept," NBC News reported.
Trump's appointment of Stepehen Bannon as his chief strategist on Monday has also come under critical scanner as top lawmakers are reportedly asking Trump to cancel his appointment. Bannon, a former Goldman Sachs banker and investor in television shows, is also the executive chairman of Search Results
Breitbart News Network, which is notorious for sending out racist messages and is popular among white nationals who are deemed "alt-right."