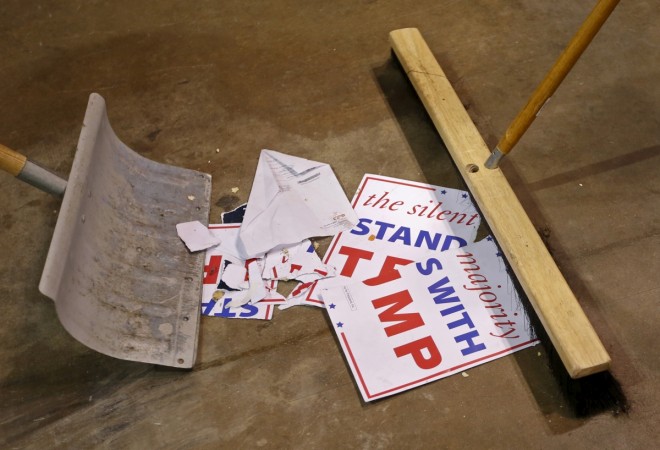 UPDATE 10:17 a.m. IST-- Some people have reportedly been arrested by the police following violence at the Chicago venue where Donald Trump's rally was cancelled. Two police officers were reportedly injured in the violence.
Original story:
Donald Trump, the controversial Republican presidential candidate for the U.S. elections, cancelled his rally in Chicago Friday night after violent clashes between his supporters and many who had gathered at the venue to protest against his campaign. Trump said he called off the rally due to safety concerns.
Television footage showed scenes of chaos at the University of Illinois-Chicago Pavilion, and some of the banners held by protesters read "Trump=Hate," as per reports. The university staff had reportedly warned of a "hostile and physically dangerous environment" if the rally was held.
The message that was read at the venue announcing Trump's cancellation said -- "Mr. Trump just arrived in Chicago and after meeting with law enforcement has determined that for the safety of all of the tens of thousands of people that have gathered in and around the arena, tonight's rally will be postponed to another date," according to NBC Chicago.
Trump, in his comments to news channel MSNBC, blamed the violence at the Chicago venue on protesters.
"You can't even have a rally in a major city in this country anymore without violence, or the potential of violence. That's why we called it off...My decision is: I just don't want to see people hurt... We can come back and do it another time," he said.
Trump has emerged as the most divisive politician in the election campaign ahead of November elections, which will put a new president in the White House. He has been criticised across the globe, and even recently by the Pope, for his comments on Muslims and immigrants.
However, despite the harsh criticism, Trump has won maximum primary elections in his party and is touted to be the Republican candidate for president.