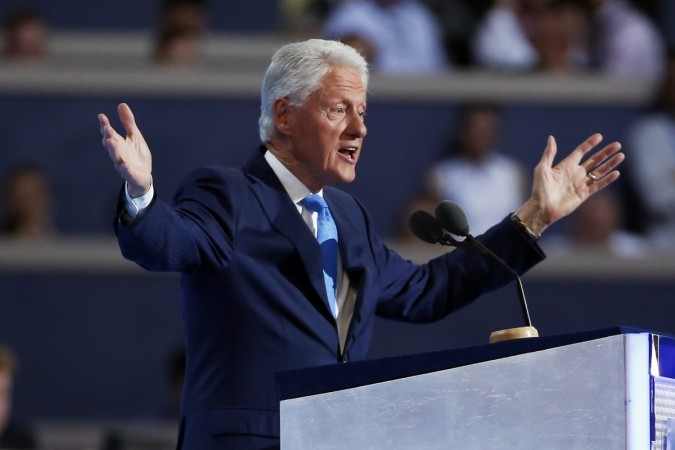 Joel Gilbert is a conspiracy theorist and filmmaker whose latest theory is that Bill Clinton has a black son. He now alleges that Bill Clinton ended up having a love-child with a black prostitute. On November 1, Gilbert brought 30-year-old Danney Williams to Washington and got him to read out a statement at the National Press Club, reports The Washington Post.
Gilbert is known for his conspiracy theories. Earlier, he alleged that President Barack Obama has a Muslim prayer inscribed on his wedding ring and in 2012, he made news when he said that labor activist Frank Marshall Davis was his real father.
At the National Press Club, Danney Williams told media, "As you can see I'm the black son of former president Bill Clinton and the stepson of Hillary Clinton." He went on to say, "At this time I am reaching out to Miss Lewinsky, Monica Lewinsky. I'm asking that Miss Lewinsky allow me to borrow her blue dress in order to obtain a DNA sample of my father's, former president Bill Clinton, in order to finally prove that he is my father."
This is the latest scandal in the Bill Clinton saga, which includes a whole list of disputes. Nannygate, Travelgate, Whitewater and Filegate are some of the other controversies that have plagued the Clintons so far.
However, Danney Williams' DNA was tested around 17 years back, reports The Washington Post. His mother had sold the same story to a tabloid, which had then done a comparison of his DNA markers to Bill Clinton's. It was concluded that Clinton was not the biological father of the boy.
In 2015, Donald Trump's adviser Roger Stone raked up the story when he said he would ensure justice for Danney Williams. Gilbert, who had reportedly been hired by Stone's pro-Trump super PAC, has made a film about Williams. It's likely that Trump will now talk about Clinton's black love-child during the week as the presidential polls near.