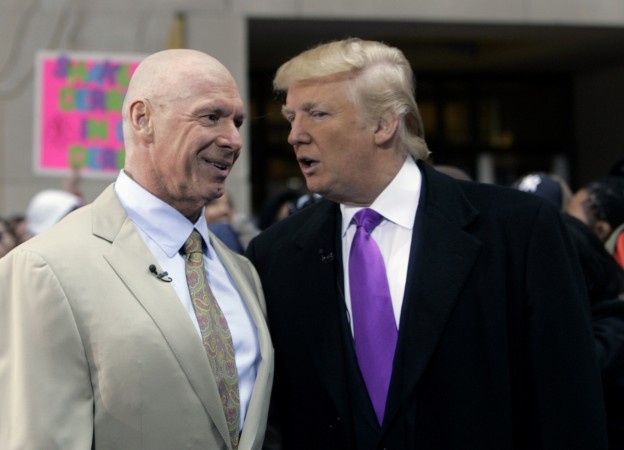 The last time Donald Trump was in the WWE, he shaved off the chairman of the pro wrestling company, Vince McMahon's hair, following a match at WrestleMania 23, back in 2007. Fast forward to almost a decade, Trump is announced as the new President of the United States (POTUS), who will take over the White House on January 20, 2017.
Rumours have also started surfacing once again that Trump, who is closely related to the WWE family, read, the McMahons, could be set for a return to the pro wrestling company for a one-off event, which can even be WrestleMania 33.
Trump has handpicked Linda McMahon, co-founder of the WWE and the wife of Vince, to lead his Small Business Administration. Linda, according to Forbes, has net worth of approximately $1.16 billion.
Question remains if this association will rekindle the love affair between Donald Trump and the WWE. By the way, for all those curious, shaving the head of Vince at WrestleMania 33 was a part of the script for Trump, and there has been no animosity involved between their personal lives.
Paul Levesque, aka Triple H, was asked if Trump could be set for a return to the WWE. Interestingly, he hasn't brushed aside the rumours!
"Wouldn't that be something, see who gets their head shaved," Triple H told CNBC in a TV interview this week, referring to the Battle of the Billionaires between Trump and Vince at WrestleMania. Triple H is currently the WWE executive vice president of talent, live events and creative, as well as an occasional wrestler.
"We've done a lot with Donald Trump over the years. He's been a great supporter of WWE, he's been a great friend to us. We've had events at his building, he's been a participant at Wrestlemania...it's great to see him have the success he is having," the veteran WWE superstar added.