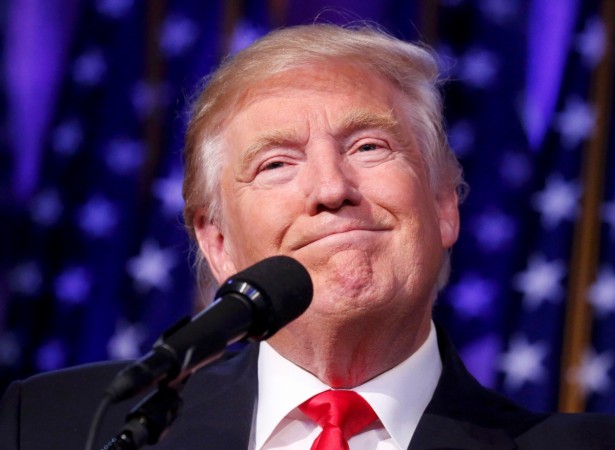 Donald Trump's victory at the US election 2016 has received mixed response from the world. Bollywood too has reacted to the historic event and it looks like most of the B-Town celebrities are not too happy with the result.
Several celebrities from the industry expressed their thoughts on Trump's victory to become the 45th US President. While a few of them congratulated the new president, most of the Bollywood stars expressed disappointment at the results.
Check some of the reactions from tinsel town following the US election result:
Huma Qureshi: Dear America, Trump is what happens when you watch too much Reality TV.
Twinkle Khanna: Donald Duck waddling to the White House doesn't seem to be just a surreal nightmare. Misogyny plays its trump card and wins.
Sunny Leone: Holy moli! Pennysylvania is done!! Flipped to red! This is freaking insane!!
Vishal Dadlani: Leaving NYC. Hoping to pass out on the plane & wake up in London, to find that #Trump was a horrific nightmare, but it's over.
Karan Johar: TRUMP Towers!
Shirish Kunder: Good thing about #DonaldTrump becoming President is that now we can use the same tweets for Indian and American politics. #Election2016
Ram Gopal Varma: All those people who thought Trump was nonsensical are now proved to be nonsensical Ha ha.
Riteish Deshmukh: & DONALD TRUMPS :Mr President Congratulations @realDonaldTrump.
Soha Ali Khan: PM's trump card against black money is historic; Trump's looking likely as the new leader of the formerly free world!! #WhatADay.
Prakash Jha: What a day folks! My best wishes to the World.. Especially the USA!! Sincerely pray today turns out to be a saner 9/11.. God Bless Us All!!
Hansal Mehta: The end.
Kunal Kapoor: This is beginning to feel like an episode out of black mirror#USElection
Arjun Rampal: Oh Teri!!!! Yeh jeetgaya. New president #donaldtrump. Hope all visiting America have got their visas.
Elli Avram: Just watched #DonaldTrump speech...AMERICA WTF!!!! I so want to be positive for our world but this has just given me a very bad vibe.
Satish Kaushik: Donald Trump is the new American President. Either way 9/11 hv shocked d world. American poll opinion gets a thrashing. voters r unpredictable.
Kabir Bedi: Trump is America's Berlusconi.
Sonakshi Sinha: Trump won and theres no Arnab on times now. What are these times we are living in?!