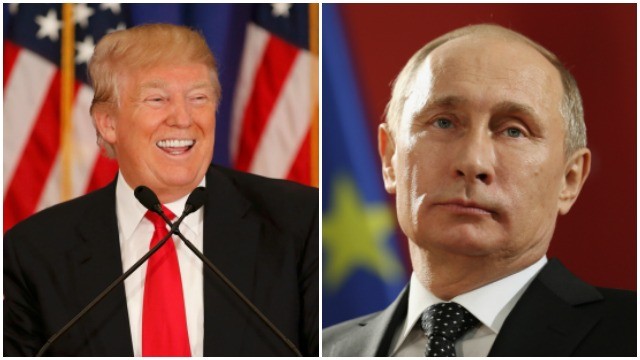 United States President-elect Donald Trump and Russian President Vladimir Putin spoke over the phone on Tuesday and vowed to work together to normalise the "extremely unsatisfactory state" of relations between the two nations, the Kremlin in a statement said.
Relations between the US and Russia have been worsening over the years, even though President Obama had talked about a "reset" eight years ago. The US has been openly critical of Russia's involvement in airstrikes in Syria. The US also imposed sanctions against Russia for its support for separatists fighting Ukrainian forces. The two countries, however, have managed to work together on the Iran nuclear deal and North Korea.
Ever since his presidential campaign gained popularity, Republican Donald Trump has vowed to mend ties with Russia and has had a soft spot for the Russian president. The US intelligence agencies had said that Russia was interfering with the US Presidential elections after private emails of the Democratic National Committee and leaders of the Clinton campaign were hacked and released before the elections. The hack had caused a huge hit to Trump's presidential opponent Hillary Clinton's campaign.
Trump's office released a statement soon after their conversation saying that Putin had called the President-elect to "offer his congratulations" on Trump's election win and to discuss challenges, "strategic economic issues" and long-term relationship between the two countries.
"President-elect Trump told President Putin that he is very much looking forward to having a strong and enduring relationship with Russia and the people of Russia," a statement by Trump's transition team said.
Trump and Putin talked about combining efforts to fight against terrorism and also discussed a "settlement for the crisis in Syria." They also said that their aides would work towards setting up an in-person meeting between the two.
According to the Kremlin, the agreement between the two was for a dialogue "on the basis of equality, mutual respect, and non-intervention in each other's domestic affairs."
The Russian president was one of the first world leaders to congratulate Donald Trump on his win by sending him a telegram on Wednesday.