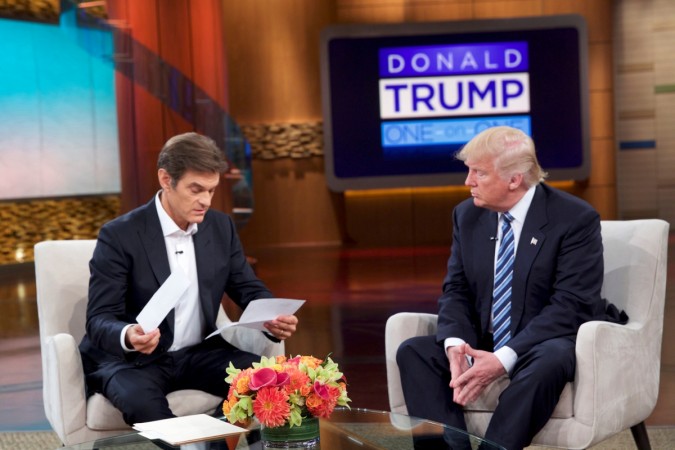 Donald Trump is borderline obese and has got high testosterone levels, the United States Republican presidential nominee reportedly revealed on "The Dr. Oz Show." Trump recently underwent a physical examination and revealed the result to Dr. Mehmet Oz, the host of the television chat show.
The result of Trump's health test was not going to be shared on the show, his campaign aides had said earlier, but he took the decision of revealing it when Dr. OZ asked him about it while the show was being filmed. The episode will be aired on Thursday.
"Well, I really have no problem in doing it," Trump said, according to a clip released by the show on Wednesday afternoon, reported Washington Post. "I have it right here. Should I do it? I don't care. Should I do it?"
Trump's health examination was done at the Lenox Hill Hospital in New York and he presented the results to the host, who analysed it and was surprised with what he saw. Trump's reports revealed that his BMI is 30, which is considered to be borderline obese. He disclosed his cholesterol level to be under 170, and was put on cholesterol-controlling medicines.
"If elected, Mr. Trump, I can state unequivocally, will be the healthiest individual ever elected to the presidency," Dr. Harold N. Bornstein, Trump's doctor, wrote in the final paragraph of the medical report, which was dated Dec. 4 but not released until Monday, according to New York Times.
Apparently, Trump underwent these tests to show how strong and healthy he is, as compared to his competitor Hillary Clinton, the Democratic Party's nominee, who has been diagnosed with pneumonia.