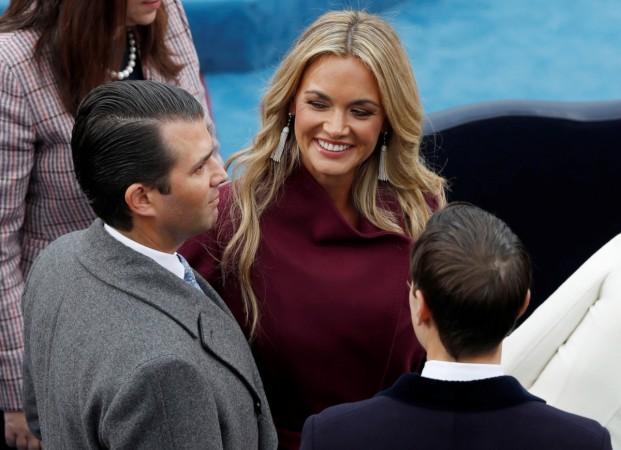 US president Donald Trump's eldest son Donald Trump Jr and wife Vanessa Trump are headed for divorce and Vanessa has already filed the papers in New York.
"After 12 years of marriage, we have decided to go our separate ways," the couple said in a joint statement issued through The Trump Organization, reported the Associated Press.
"We will always have tremendous respect for each other and our families. We have five beautiful children together and they remain our top priority. We ask for your privacy during this time."
The former model and actress has filed papers for an uncontested proceeding, which means she does not want to go through a legal battle for the custody of their children or their assets.
While the couple has until now put up a united front, rumours of the marriage hitting rocky waters started quite some time back.
Just a few days ago, Vanessa was rushed to the hospital after she received an envelope containing white powder and a letter that described Trump Jr as a terrible person. The white powder, suspected to be anthrax, later turned out to be corn starch. Trump Jr. had, at the time, tweeted that he was glad that his wife and children were safe.
Thankful that Vanessa & my children are safe and unharmed after the incredibly scary situation that occurred this morning. Truly disgusting that certain individuals choose to express their opposing views with such disturbing behavior.

— Donald Trump Jr. (@DonaldJTrumpJr) February 12, 2018
A source had earlier told Page Six that even though the couple was not legally separated, they had been living "separate lives." The exact reason behind the split is not known, but the source said it was mostly due to Trump Jr.'s schedule and controversies around his tweets.
"The problems have been there for a long time, the couple had hoped to stay together during the president's time in office, but it is getting harder to resolve their issues. He's never there," the source added.
Legal experts also believe that the couple has a prenuptial agreement, making it easier for them to decide on their future course of action.
"Prenuptial agreements and confidentiality agreements are in the Trump dynasty DNA so I would be surprised if Donald Jr. went into the marriage completely naked," Page Six quoted divorce lawyer Michael Stutman, of the firm Stutman Stutman & Lichtenstein LLP, as saying.
Trump Jr. and Vanessa married in November 2005 and the ceremony was held at Mar-a-Lago, Trump Sr's membership club in Florida. Their wedding was officiated by the US president's sister Maryanne Trump Barry, who was then a judge in the United States court of appeals.
The couple has five children -- Donald Trump III, Kai Madison Trump, Chloe Sophia Trump, Tristan Milos Trump, and Spencer Frederick Trump.