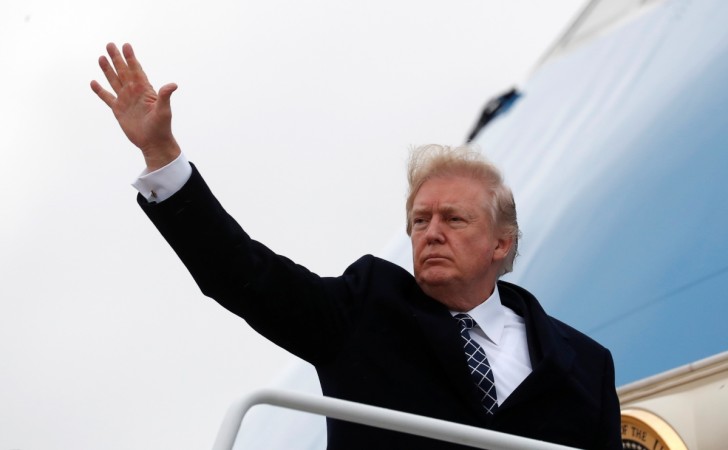 United States President Donald Trump has completed a year in the White House on Saturday. The first year of his presidency has seen many ridiculous moments that led many to believe that the Republican billionaire was 'mentally unfit to lead'.
From calling North Korea's Kim Jong-un 'little rocket man' to leaving the entire Twitterati puzzled with his 'covfefe', Trump has been in the news always, stirring quite a few controversies.
Top 5 craziest Twitter moments during Trump's presidency so far:
1. The ongoing battle between Trump and Kim Jong-Un witnessed a rather peculiar twist during their nuclear war twitter spats when Trump claimed his nuclear button is 'bigger and more powerful' than the leader of the isolated regime.
North Korean Leader Kim Jong Un just stated that the "Nuclear Button is on his desk at all times." Will someone from his depleted and food starved regime please inform him that I too have a Nuclear Button, but it is a much bigger & more powerful one than his, and my Button works!

— Donald J. Trump (@realDonaldTrump) January 3, 2018
2. Trump was also ridiculed across social media for his tweet where he said his greatest asset was his mental stability and that he was a 'stable genius'. This tweet came by as a retort for the Michael Wolff's political book Fire and Fury: Inside the Trump Administration where the author claimed that Trump does not understand the magnitude of his work and that he is unfit to be the President.
....to President of the United States (on my first try). I think that would qualify as not smart, but genius....and a very stable genius at that!

— Donald J. Trump (@realDonaldTrump) January 6, 2018
3. The President made the social media users ponder over the word "covfefe" for days when he tweeted it. After scrutinising it day and night, Twitterati is still confused what the President meant when he tweeted so.
Who can figure out the true meaning of "covfefe" ??? Enjoy!

— Donald J. Trump (@realDonaldTrump) May 31, 2017
4. Trumps 'Fake News Award' declaration created quite a buzz as Trump tweeted out with no surprise that CNN was the star of the award show. Others to join on his list were New York Times, Times Magazine, and Washington Post among many others. He called the organizations as 'losers' in one of his tweets.
The Fake News Awards, those going to the most corrupt & biased of the Mainstream Media, will be presented to the losers on Wednesday, January 17th, rather than this coming Monday. The interest in, and importance of, these awards is far greater than anyone could have anticipated!

— Donald J. Trump (@realDonaldTrump) January 7, 2018
5. The hurricane in Puerto Rico gave the world an opportunity to have some basic geography lessons from the president when he described the American island territory as " an island surrounded by water. Big water, ocean water." Trump's water observation didn't take long for Twitter to start mocking him for the statement, as the island battled a humanitarian crisis.