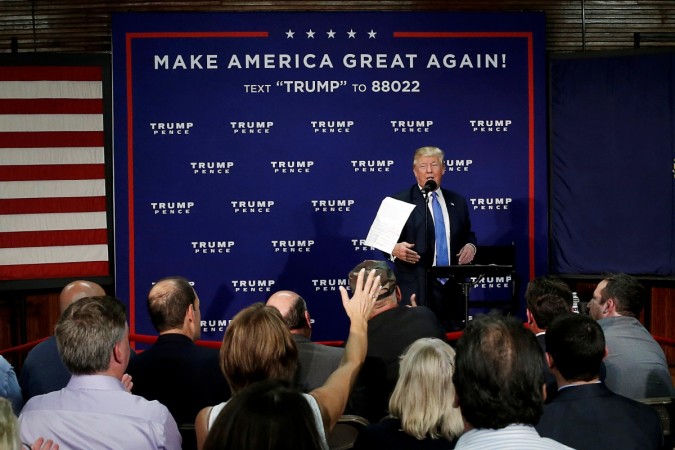 Donald Trump, the United States presidential candidate for the Republican party, issued an apology for his vulgar remarks on women by posting a 90-second video on social media after midnight.
"I moved on her and I failed, I'll admit it ... I did try and f*** her. She was married. I moved on her like a b**** but I couldn't get there... I am automatically attracted to beautiful (women). I just start kissing them. It's like a magnet. Just kiss, I don't even wait ... and when you're a star they let you do it. You can do anything... Grab them by the p****," Trump said in a video obtained by the Washington Post on Friday night.
Trump was forced to apologise after the video surfaced online and, therefore, posted a video saying: "I never said that I am a perfect person. I have said and done things I regret and the words released today on this more than a decade old video are one of them... These words don't reflect who I am. I said it; I was wrong and I apologise."
However, the Republican presidential candidate went on to attack Bill and Hillary Clinton soon after the apology raising the topic of the former president's sex scandals and his wife for having "bullied, attacked, shamed and intimidated his victims."
"I've said some foolish things, but there's a big difference between the words and actions of other people," Trump said while concluding his statement.
The conversation between Trump and television host of "Access Hollywood" Billy Bush was recorded on a live microphone the Republican was wearing on his lapel in 2005 during the taping of a segment for the show "Days of Our Lives" where the Republican candidate had to tape a cameo.
Trump had released a statement on Friday that said:
"This was locker room banter, a private conversation that took place many years ago. Bill Clinton has said far worse to me on the golf course - not even close. I apologise if anyone was offended."
The disclosure of the video is a setback for Trump's campaign and his attempts to win female voters with just a month until Election Day. He has repeatedly said that "nobody respects women more" than him and has vowed to "cherish" and "protect" women when he becomes the president.