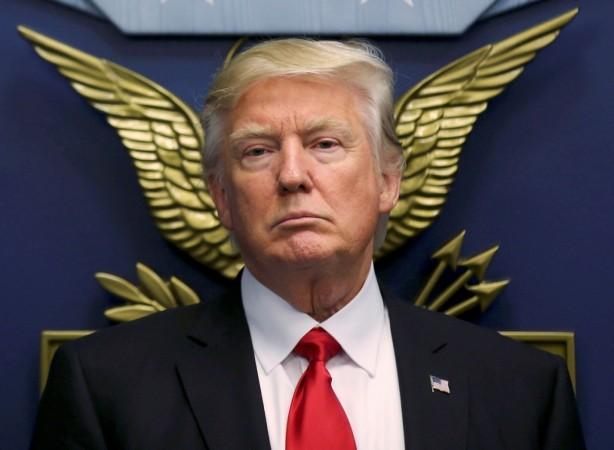 United States President Donald Trump on Saturday accused former President Barack Obama of "wire tapping" his Trump Tower office in New York City before the 2016 presidential elections. Trump claimed that Obama had overseen a "Nixon/Watergate"-style intervention.
Trump on Saturday morning accused the former president in a series of tweets and said that the alleged act was "McCarthyism."
US Vice President Mike Pence used private email account for official purposes: Report
"Terrible! Just found out that Obama had my 'wires tapped' in Trump Tower just before the victory. Nothing found. This is McCarthyism!" Trump tweeted.
After this tweet, Trump wrote a series of tweets in the next 30 minutes alleging that Obama had defied a court rejection to tap his office. The president also invited a "good lawyer" to formulate a case against the alleged "tapping."
Is it legal for a sitting President to be "wire tapping" a race for president prior to an election? Turned down by court earlier. A NEW LOW!

— Donald J. Trump (@realDonaldTrump) March 4, 2017
I'd bet a good lawyer could make a great case out of the fact that President Obama was tapping my phones in October, just prior to Election!

— Donald J. Trump (@realDonaldTrump) March 4, 2017
Trump then drew a comparison with the alleged surveillance of his communications to Watergate and attempted to defend his attorney general Jeff Sessions over his meeting with the Russian ambassador to Washington during the 2016 presidential election campaign by stating that the meet was set up by the Obama administration.
How low has President Obama gone to tapp my phones during the very sacred election process. This is Nixon/Watergate. Bad (or sick) guy!

— Donald J. Trump (@realDonaldTrump) March 4, 2017
"The first meeting Jeff Sessions had with the Russian Amb was set up by the Obama Administration under education program for 100 Ambs..."
"Just out: The same Russian Ambassador that met Jeff Sessions visited the Obama White House 22 times, and 4 times last year alone," Trump tweeted.
The US President provided no additional information to his allegations against the former President. It was also not clear on what information Trump was basing his allegations against Obama.
The Trump administration has been under fire for its contact with the Russian officials during the presidential campaign last year. Trump's National Security Adviser Michael Flynn was removed from his position last month for his involvement with Russian officials.
Flynn had made a phone call in late December to Russian Ambassador Sergey I Kislya, soon after the Obama administration imposed new sanctions on Russia for interfering with the US elections. He had initially said that the duo had just discussed scheduling matters and the sanctions against Russia were not discussed. Trump affiliates, including Pence, had backed Flynn's claims.