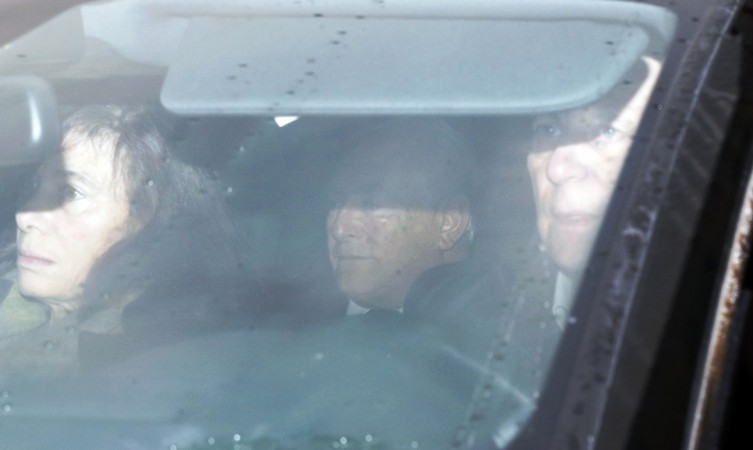 Three topless woman belonging to the protest group – 'Femen' – jumped on former IMF chief Dominique Strauss-Kahn's car on Tuesday as the 65-year-old arrived at the court to take a stand in the alleged pimping trial.
The former head of the International Monetory Fund is charged with aiding and assisting the prostitution of seven women. He will have three days to fend off the accusations that also state that he had procured prostitutes for sex parties along with 13 others.
One of the three topless women jumping onto Strauss-Khan's car had "pimps, clients, guilty" scrawled across her chest, the Guardian reported from the French city of Lille where the trial is being held.
The women were quickly nabbed by the police as the car entered an underground parking area, according to a report by AFP.
The controversial figure, who was once a presidential hopeful for France, will now require to answer a charge of "aggravated pimping" which means he allegedly aided and abetted prostitution – a crime that carries a possible 10-year prison term in France.
In the court, he said that he was involved in the group sex only about four times in a year and that he was actually very busy saving the world's economy during the time of financial crisis, according to a tweet posted by a Guardian reporter present in the courtroom.
#DSK tells court the soirées only happened around 4 times a year. He was v busy 'saving the world' during financial crisis #CarltonLille

— Angelique Chrisafis (@achrisafis) February 10, 2015
He is controversially charged of having group sex with sex workers while holding the most senior economic job in the world in Washington.
There are at least 15 "soirees" being discussed by the court, which apparently took place between 2009 and 2011.
The court petition has argued that due to the sexual practices and the types of events he was involved in, Strauss-Kahn could not have been unaware that the women were paid.
Strauss-Kahn, while strongly denying pimping charges, has admitted to taking part in group sex multiple times. However, he insists that he never knew that the women at the orgies or sex parties were prostitutes.