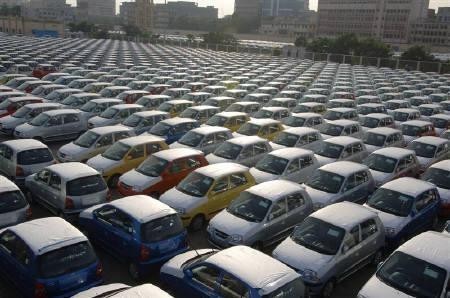 Car sales in India surged 1.39 percent, an industry board said on Monday.
Automakers sold 1,60,718 units of cars in India last month, up 1.39 percent from the 1,58,512 units in February 2013, PTI quoted the Society of Indian Automobile Manufacturers (SIAM) data.
The sales of motorcycles rose 5.39 percent to 8,43,307 units (from 8,00,165 units), while the commercial vehicles posted a decline of 29.84 percent to 47,982 units in February.
The surge in the car sales have been attributed to the price cut announced by the car manufacturers, following the excise duty reduction pronounced in the interim budget 2014-15. As per the latest budget, the excise duty of small cars, motorcycles, scooters and commercial vehicles in India has been cut down to 8 percent from 12 percent, while the excise duty of Sports Utility Vehicles (SUVs) has gone down to 24 percent from 30 percent.
In February, carmakers like Maruti Suzuki, Hyundai and Honda have registered a surge in domestic car sales.
Maruti, India's largest passenger carmaker, posted a 0.40 percent dip in total sales for the month of February. However, the domestic sales of the company rose to 99,758 units in February, when compared to the 97,955 units in the same month last year.
Honda car India and Ford India marked double digit growth in the domestic market sales in February 2104. Ford India's domestic sales were up 51.42 percent to 6,799 units in February as against the 4,490 units in the same corresponding month last year.
Two-wheeler makers, Bajaj Auto recorded a decline of six percent in domestic sales for February 2014. The company sold a total of 273,323 motorcycles as against the 291,297 units last year. The Honda Motorcycles sales grew by 44 percent at 3,28,521 units for February 2014.