Soldiers of China's People's Liberation Army (PLA) continue to patrol the Doklam plateau two weeks after the 71-day military standoff between India and China was brought to an end through diplomatic channels.
The Chinese soldiers have reportedly built bunkers on a ridge line behind the disputed region, triggering fears of a fresh military standoff between both countries, India Today reported.
India raised the issue of the presence of Chinese soldiers in the Doklam region on September 8 during the flag meeting between the Indian division commander and his PLA counterpart at the Nathu La mountain pass.
The Indian Army, during the flag meeting, insisted that the disengagement process agreed upon between both sides on August 28 would not be complete if the PLA soldiers did not vacate the disputed region. The PLA reportedly told the Indian Army it would reply after consultation with superiors.
Indian and Chinese troops currently remain on the disputed Doklam plateau separated by a distance of 150 metres.
The disengagement on August 28 was followed by Prime Minister Narendra Modi's successful visit to the BRICS Summit in Xiamen from September 3-5. He held bilateral meetings with Chinese President Xi Jinping, who focused on the need for "peace and tranquillity on the border areas as a pre-requisite for the further development of ties."
The Doklam standoff had begun on June 16 after China accused Indian troops of entering Doklam, also known as the India-China-Bhutan tri-junction, and stopping Chinese troops from constructing a road in the area.
India responded that the border dispute was yet to be resolved and that China should "desist from changing the status quo".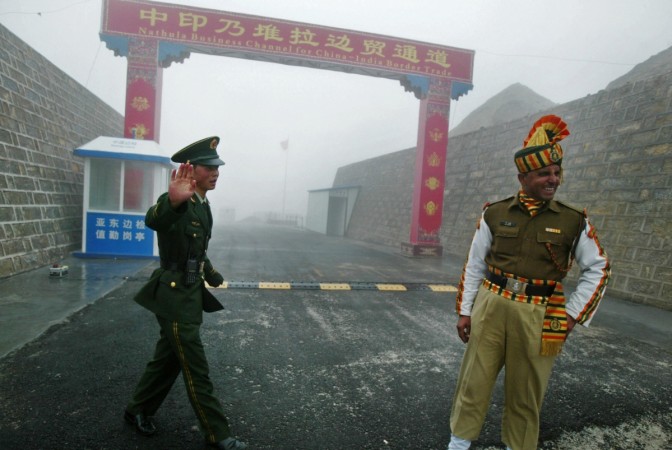 India also accused PLA personnel of intruding into Indian territory through Sikkim and destroying bunkers, while China claimed India was provoking them, and that the issue could be resolved only if India withdrew its troops.
India feared that the road-building activity would allow Chinese troops to cut its access to the seven states in the Northeast.
However, the standoff ended on August 28 with both countries agreeing to withdraw their troops from the Doklam area and the Chinese soldiers stopping the construction of roads at the tri-junction and taking back equipment.
The Chinese soldiers insisted on patrolling the area up to the Jampheri ridge as, according to them, the tri-junction between India, China and Bhutan lies there, sources privy to the flag meeting on September 8 told Indian Today.
However, both India and Bhutan insist that the tri-junction lies 4 km north of the ridge at the Batang La Pass.
The flag meeting at the Nathu La Pass was the second since August 28, when both sides withdrew troops by 150 metres from the disputed road construction site.
The first meeting was held on August 30 when the Indian Army raised objections over the Chinese soldiers leaving a flag at the disputed region to be guarded by eight soldiers of the PLA.