Nepalese Prime Minister Sher Bahadur Deuba, who is on a five-day visit to India, assured Prime Minister Narendra Modi on Thursday that Nepal would not allow any activity against its "friendly neighbour". His statement comes amid the ongoing military standoff between India and China in Doklam.
"Nepal would never allow any activities against friendly neighbour India and there would be every support and cooperation from our side," Deuba said while issuing a joint statement to the media along with PM Modi.
Meanwhile, PM Modi focused on closer cooperation between the security and defence forces of both India and Nepal to avoid misuse of the open border between both countries.
"Defence ties and assistance in security is an important aspect of our partnership. Our defence interests are also dependent and connected to each other," Modi said, while addressing the media following talks with Deuba.
However, Foreign Secretary S Jaishankar said that the two leaders did not discuss the border standoff between India and China in Doklam. He stressed on the "defence and security" aspect saying that both sides felt the need to be "vigilant" and "careful" as there is a "porous and open border" between Nepal and India.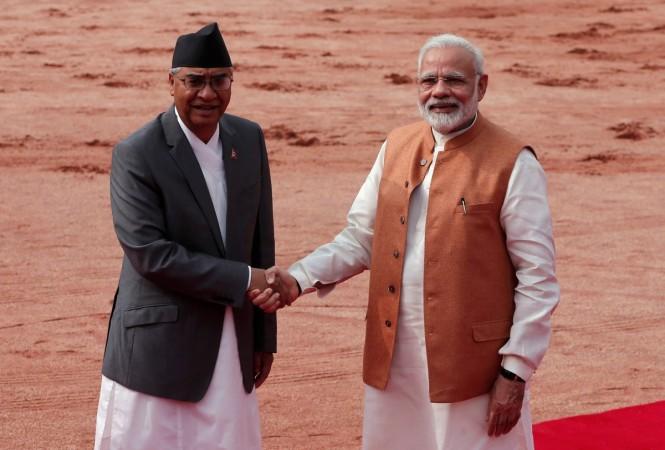 India 'slapping its own face' by constructing road in Ladakh: China
China on Thursday said that India was "slapping its own face" by deciding to go ahead with a road construction project near the Pangong Lake in Ladakh located on the India-China border.
India and China have been locked in a border standoff in Sikkim for over two months now. It began on June 16 after China accused Indian troops of entering Doklam, also known as the India-China-Bhutan tri-junction, and stopping Chinese troops from constructing a road in the area. However, India responded by saying the border dispute is yet to be resolved and that China should "desist from changing the status quo".
The Ministry of Home Affairs has reportedly given its approval to build a 20 km road near Pangong Lake along the Line of Actual Control (LAC). This is the same site where clashes between the Indian and Chinese troops had taken place on August 15.
Also Read: Chinese media's racist video mocks India over border conflict
"It seems according to the reports the Indian side is slapping its own face. The Indian side is closely following China's road-building recently but India's actions themselves have proven that the Indian side says something and does another. Its words are in complete contradiction to its deeds in terms of border issues," Chinese Foreign Ministry spokesperson Hua Chunying told Chinese media on Thursday.
Chunying added that the "western section of the India-China boundary has not been delimited." She further said: "The two sides have agreed to uphold border areas' peace and tranquility before disputes are settled. The current road construction by the Indian side is not conducive to peace and stability in that area."
Hua also said that the project "will not help with settlement of the current situation."
A major scuffle broke out between the Indian and Chinese troops on the northern bank of Pangong Tso Lake along the LAC in Ladakh on August 15. The clash saw both sides punching, kicking and pelting stones at each other. A video of the entire incident also went viral on social media.
While the Indian Army refused to comment on the issue, China put the entire blame on India saying that it was carrying out "normal" patrols in the region and that it was the Indian soldiers who began the clash.
BREAKING: Video of violent confrontation between Indian & Chinese troops at Pangong Tso, Ladakh on Aug 15. No official comment on it yet. pic.twitter.com/b1amMZfJ6t

— Shiv Aroor (@ShivAroor) August 19, 2017
India has also accused China of building roads on the India-China-Bhutan tri-junction and its People's Liberation Army (PLA) of intruding into Indian territory through Sikkim and destroying bunkers, while China has claimed India is provoking them and the issue can be resolved only if India withdraws its troops.
India fears that the road-building activity would allow Chinese troops to cut its access to the seven states in the Northeast.