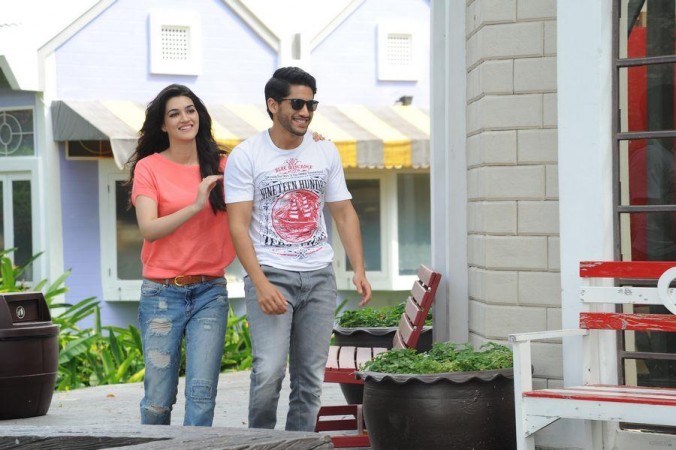 "Swamy Ra Ra" fame director Sudhir Varma's association with popular actor Naga Chaitanya and Kriti Sanon had created a lot of hype about "Dohchay", but the film has failed to meet the expectations.
Photos: Fans Celebrate Dohchay Release
Written by Sudhir Varma, "Dohchay" revolves around the story of a small-time crook, who lands in trouble, when he steals a gangster's money. The gangster kidnaps the hero's father and sister. And how he saves their lives will form the interesting part of the movie.
The script written by Sudhir Varma was one of the main highlights of "Swamy Ra Ra". So the critics were expecting the director to come up with another innovative and interesting story in "Dohchay", but he has disappointed them. The film has a routine story and the screenplay seems to have been influenced by some recent releases, opine some critics.
The first half of "Dohchay" is engaging and interesting. The second is also entertaining, but slow narration kills the interest of the viewers. Naga Chaitanya's stunts, his chemistry with Kriti Sanon and some comedy scenes are the main highlights of the film, say the critics.
"Dohchay" has been rated an average of 2.81 out of 5. We bring you the film critics' verdict on the movie.
Read Dohchay Review Round-up below:
"Dohchay" has some very stylish action sequences. Interesting premise, well executed first half and a hilarious last half an hour are huge assets. If you manage to sit through the predictable twenty minutes post interval and go in without any expectations, you will definitely enjoy this glossy action thriller.
"Dohchay" is a formulaic film lifting its formula from various films. Director of Swami Ra Ra teams up with Naga Chaitanya and ends up giving us a stretched rehash. So there you have it. A flimflam flick necessarily has to do a couple of things, it has to have some thrilling moments and it needs to be funny. On nether of these counts Dohchay comes up as trumps.
"Dohchay" is a satisfying product. Problem lied in missing of solid content, emotional quotient letting second half graph to fall down. Climax is also run of the mill making scapegoat of villain with fun filled, unbelievable instances. Twists and turns come in here and there which aren't again so pinching. All in all, "Swamy Rara" shades haunt us throughout the run of 'Dohchay' but this is not as superior product as the first one. Commercial faring of the film at BO needs to be wait and seen.
"Dohchay" has a pretty decent first half with a good blend of comedy and romance. The latter half is even better with interesting twists and ample dose of humour. Go for it!