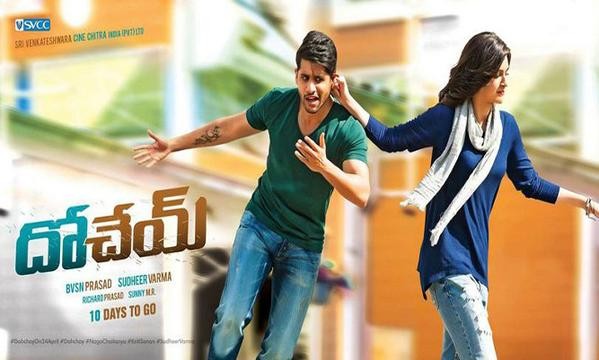 Naga Chaitanya's "Dohchay" (Dohchey or Dochay) has opened to a fantastic response at the box office and its business is least affected by the Telugu version of "Avengers: Age of Ultron" and other new releases.
Sudhir Varma has garnered a large number of fans through his wonderful scripting and direction in "Swamy Ra Ra". "Dohchay" has been making headlines ever since Varma agreed to work with Naga Chaitanya. The music and promos have also created a lot of curiosity among the filmgoers. In addition, the makers have had massive promotions for it.
Despite having the right hype surrounding the film, trade experts were bit sceptic about a good opening for "Dohchay". The reason being it's clash "Avengers: Age of Ultron", "Kai Raja Kai and "Aloukika". Trade experts had predicted that the Telugu version of the much-awaited Hollywood movie would take a toll on its business in Telangana and Andhra Pradesh.
Released in around 800 screens, "Dohchay" has proved the prediction of the trade expert wrong. Before its release, the movie registered around 65% advance booking and its screen began at 5.00 am on its opening day in many places. The film witnessed unprecedented crowd in this early show, which ran to packed houses in some centres.
"Dohchay" registered an average of 85% occupancy in both multiplexes and single screens across the globe in its regular morning. Its business improved in the afternoon show. The film has an average of 75% of advance booking for its evening and night shows. The movie is expected to do well in these shows.
As per early trends, "Dohchay" will make record-breaking collections at the worldwide box office on the first day of its release and become the biggest opener for Naga Chaitanya. It will also become one of top five biggest openers of 2015. With the movie getting mixed reviews from critics and viewers, it should be seen whether the film will continue the same pace at the ticket counters over the weekend.