Rahul Dravid came very close to winning a World Cup in 2003 but India lost to Australia in the final. Four years later, in 2007 World Cup, he was the captain of the team but it was a heart-breaking first round exit on the Caribbean islands. Does he have any regrets over not winning the ICC showpiece event? The batting legend has answered.
Also read: Shaw in elite company with Dhoni, Kohli
The 45-year-old, coach of India Under-19 side which won the World Cup recently in New Zealand, arrived back home yesterday (February 5) to a rousing reception in Mumbai. He and the World Cup winning players were greeted by fans at the Mumbai airport on Monday and later spoke about their memorable journey.
Also read: It is 'embarrassing', says Dravid after World Cup win
In his illustrious career, Dravid achieved several highs. He is one of the few batsmen in history to have done the double of 10,000 plus runs in both Tests and One Day Internationals.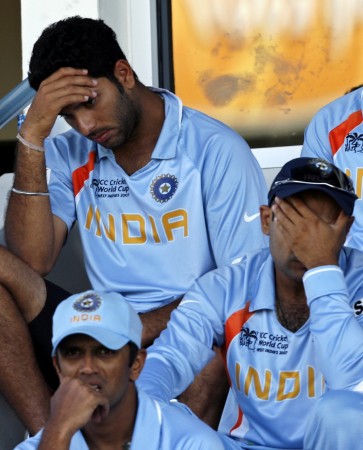 Reflecting on his career and not winning a World Cup, he said, "Not lifting the World Cup is not a pain for me anymore. I have long since retired. I don't carry around...it is not like a pain or something for me, honestly. I don't even think about it. My cricket career is over. I have gone and done with it," Dravid said.
He added, "I have been around for a long time, had disappointments in my career, not only lifting the World Cup. I have had many disappointments in my cricketing career. I have had many successes as well. I have no regrets. So I don't walk around in pain or something. This is a completely a different thing. I am more happy for the boys."
Dravid played in three World Cups - 1999 (England), 2003 (South Africa) and 2007 ( West Indies. The best finish was in 2003, as a finalist. Now, as a coach he is part of the World Cup winning team.
In the last edition of Under-19 World Cup, in 2016, Dravid-coached side lost to West Indies. This time around, they went one step better and brought home the cup.