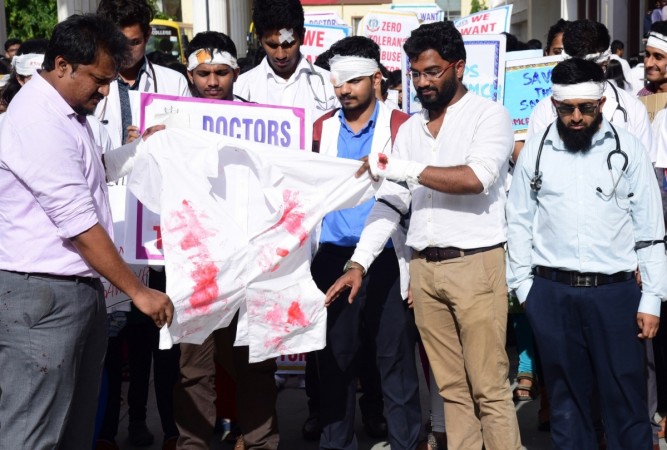 The Indian Medical Association had called for a strike across the country on June 17th and asked for a withdrawal of non-essential medical services in solidarity with the doctors on strike in West Bengal against the state government.
The IMA is also scheduled to hold a dharna at its headquarters in New Delhi on Monday. While healthcare organisations across the country have taken up the protest, AIIMS doctors had initially decided to stay away to take care of the patients. However, after a patient's attendant attacked a doctor on Sunday night, they also joined the protest.
Doctors in West Bengal have been on strike since June 11, after a junior doctor was attacked by a deceased patient's family.
On Sunday, the doctors agreed to meet with West Bengal chief minister Mamata Banerjee and come to an agreement. "We are keen to end this impasse. We are ready to hold talks with the chief minister at a venue of her choice, provided it is held in the open, in the presence of media persons, and not behind closed doors," a spokesperson of the doctors said after a two-hour meeting," a spokesperson for the protesting doctors said.
Mamata Banerjee invited two representatives from each medical college to meet with her on Tuesday so they can come to an agreement.
Live Updates
2019-06-1717:11 (IST)
Two regional news channels allowed to cover the meeting; Mamata gives in to some demands
While there was no communication in the letter inviting the doctors to the meeting that there will be media presence, two regional news channels were allowed to cover the meeting after the junior doctors insisted on it.
Mamata Banerjee met with the protesting doctors on Monday afternoon to listen to their demands after a junior doctor was brutally attacked by a deceased patient's relatives last week. Mamata directed Kolkata Police commissioner Anuj Sharma to deploy nodal officers at every hospital.
She also said that a grievance unit will be formed to address the concerns of the doctors.
2019-06-1715:49 (IST)
Mamata-doctors meet
After a week-long protest by doctors in West Bengal, they met with the state's chief minister, Mamata Banerjee at 3 PM at her residence.
2019-06-1715:48 (IST)
What are the demands by the doctors?
In their list of demands, doctors have included patient verification through Aadhaar or biometric, a hospital security system, if a doctor is verbally or physically abused, the CCTV footage will be given to a central organisation headed by an ex-Supreme Court judge and lawyers and if the hospital fails to do so, the superintendent will be held liable.
They have also asked for a helpline specifically for doctors, to register complaints against political leaders. In addition to this, doctors have also demanded the arrest of those who circulate hate messages against them.
2019-06-1713:36 (IST)
Injured doctor's kin concerned with injuries in brain's frontal lobe
The injured doctor's cousin, who is also a doctor, said that Mamata Banerjee has to keep her ego aside. He added that she did not visit the doctor, Paribaha Mukherjee when he was the NRS hospital and at IMK. She ahd sent representatives.
Talking to India Today, Paribaha's cousin, Sanjit said that he suffered severe head injuries including a skull fracture after a deceased patient's family beat him up. While he is on his way to a speedy recovery, Sanjit is concerned with Paribaha's injuries in his front lobe of the brain, which could cause problems in the future.
Sanjit said, "Paribaha is in a stable condition right now. However, damage caused to his frontal lobe might create an issue in the future. I feel this won't be a problem because he has been healing quickly. He was first admitted by his classmate to NRS, but as his situation became terrible he was shifted to IMK, where he was provided further treatment."
2019-06-1713:26 (IST)
Doctors agree to meet Mamata at 3 PM
Doctors have agreed to meet West Bengal chief minister Mamata Banerjee at 3 PM in Kolkata today.
2019-06-1712:34 (IST)
Nimhans Bengaluru wears a deserted look after doctors join protests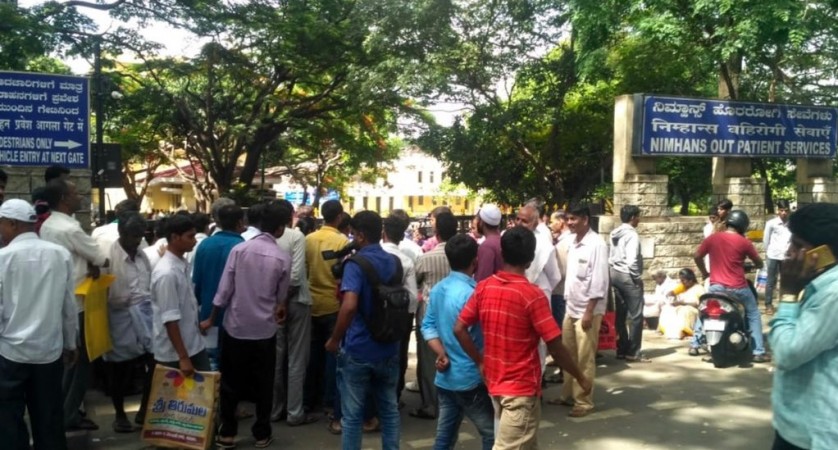 Patients have queued up outside NIMHANS in Bengaluru looking for medical treatment. However, all outpatient departments have suspended work on Monday, standing on solidarity with doctors in West Bengal demanding for safety and security.
2019-06-1712:28 (IST)
Doctors hold protest in AIIMS Bhopal
2019-06-1712:24 (IST)
Mamata government invites doctors for meeting on Tuesday
The Mamata Banerjee government has invited the doctors for a meeting at on Tuesday
they sent letters to the junior doctors and have asked for two representatives from each medical college to come to Nabanna, where the chief minister resides.
The doctors had previously refused to meet with the chief minister citing a lack of media coverage. No information has been given on whether a media presence will be there.
2019-06-1712:19 (IST)
AIIMS doctors join the march after attack on physician on Sunday night
AIIMS had initially decided to stay away from the protests but they changed their mind after a doctor in the Traum centre and the hospital in New Delhi was attacked by a patient's attendant and was also verbally abused by him.
"This was because the patient was what we call low risk. But the attendant of the patient, who was drunk, verbally abused him and said, 'unless you see him now, I will kill you'," Dr Amrinder Singh Malhi, the chief of the Resident Doctors' Association, explained why the doctor was attacked.
2019-06-1712:16 (IST)
Banerjee is responsible for doctor strike : BJP MP Babul Supriyo
"Mamata Banerjee is responsible for the crisis happening in our country. She mismanaged the issue in Bengal," Union Minister and BJP leader Babul Supriyo said in the wake of the call for doctor strike across the country.
BJP MP from West Bengal Locket Chatterjee said that the doctors are not part of BJP and that she cannot threaten them.
She said, "There is no law and order in Bengal. Whatever is happening in Bengal is not good. We will work Bengal under the leadership of PM Modi. Doctors are doctors and they should respect patients and patients should also respect doctors. Doctors are not BJP workers, Mamata Banerjee can not threaten them."
2019-06-1712:05 (IST)
Doctors in Ranchi stand in solidarity with WB physicians
2019-06-1712:03 (IST)
Doctors protest at King George's Medical University in West Bengal
2019-06-1712:00 (IST)
Doctors refuse to meet with Mamata Banerjee citing lack of media coverage
Junior doctors refuse to meet with Mamata Banerjee in West Bengal on Monday. They have said that they want media coverage and not a closed door meeting.
2019-06-1711:59 (IST)
AIIMS doctor attacked at trauma centre by patient's attendant
While doctors across the country are on strike protesting the violence against them, a doctor at the Trauma centre at AIIMS in New Delhi was allegedly attacked by an attendant of a patient last night (Sunday).
The incident happened when the physician who was hurt, had not gotten to the patient on time since it was a low-risk injury. This angered the attendant, who was in an intoxicated state and verbally abused the doctor. He told the doctor, "Unless you see him now, I will kill you."
Ironically, AIIMS was the only healthcare organisation to step away from the protests citing that they will be taking care of patients on Monday.
2019-06-1711:53 (IST)
Supreme Court to hear plea seeking security for doctors
Supreme Court said that on June 18, it will hear the plea asking for the security of doctors in government hospital across India. the plea was filed on June 14, Friday and also asked for the Home Affairs ministry and the West Bengal government to place state-appointed security guards at every government hospital across the country.
2019-06-1711:47 (IST)
40,000 doctors part of protest from Maharashtra
There are 40,000 doctors in Maharashtra alone, from government and private hospitals, taking part in the protest and standing in solidarity with the doctors in West Bengal.
the outpatient department has been boycotted today including other non-essential healthcare services.