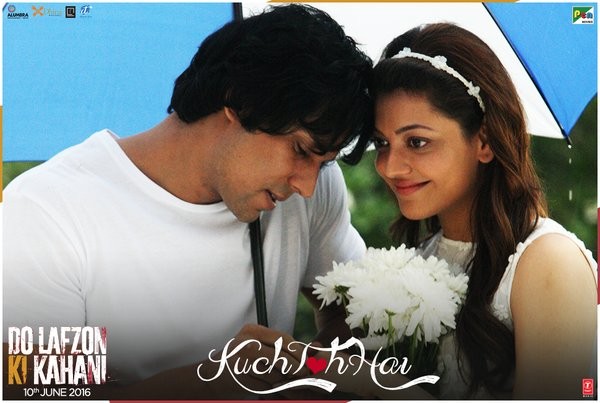 Director Deepak Tijori's Bollywood movie "Do Lafzon Ki Kahani," starring Randeep Hooda and Kajal Aggarwal, has received positive reviews from the audience around the world.
"Do Lafzon Ki Kahani" is a romantic action entertainer, which is based on the 2011 Korean movie "Always." Girish Dhamija has written the script for the Hindi adaptation, which revolves around the story of martial arts artist Sooraj (Randeep Hooda) and sculptor artist Jenny (Kajal Aggarwal). Their fate intertwines when their pasts are revealed in their blooming relationship. What happens next forms the crux of the story.
Audience say "Do Lafzon Ki Kahani" has an interesting story which has been explored in Hindi movies very few times in the past. The director has adapted the Korean movie "Always" with few changes to suit the tastes of the local audience. The movie has an engaging narration, which is slow dragging in parts.
Randeep Hooda has an action-packed role in "Do Lafzon Ki Kahani" and he has delivered a sterling performance. Actress Kajal Aggarwal has got author-backed role and she has also done justice to it. Their performances and amazing chemistry are the main highlights of the movie. Others' performances are also assets of the film.
"Do Lafzon Ki Kahani" has been produced by Dhaval Jayantilal Gada under his banner Pen India Limited and the movie has brilliant production elements. Arjuna Harjai Ankit Tiwari, Amaal Mallik and Babli Haque's music, Mohana Krishna's cinematography, exotic locales of Kuala Lumpur, Malaysia and choreography of action scenes are the attractions on the technical front.
We bring you some viewers' verdict shared on Twitter. Here is the live update of 'Do Lafzon Ki Kahani' movie review by audience:
Taran Adarsh ‏@taran_adarsh
#DoLafzoKiKahani is an emotional love story that's garnished with an interesting plot and deft direction by Deepak Tijori... What makes #DoLafzoKiKahani special is the heartwarming moments and of course, Randeep and Kajal Aggarwal's wonderful performances.
RJ ALOK ‏@OYERJALOK
Loved @RandeepHooda in Macho, Rough n Tough Look Brilliant #Sooraj in #DoLafzonKiKahani #RjAlok #JennyMatihas aka @MsKajalAggarwal very well performance in #DoLafzonKiKahani #RjAlok
Ɽαϲλίζ ₲μρζα ‏@radiochatter
Love never hurts... love heals! Hallmark card messages n headaches guaranteed when u watch #DoLafzonKiKahani... just 1⭐ for #RandeepHooda Director Deepak Tijori and his film #DoLafzonKiKahani have a horrible 80s and 90s hangover. Too much formula too much melodrama
Umair Sandhu ‏@sandhumerry
Review of #DoLafzonKiKahani. Terrific Intense Love Saga. @MsKajalAggarwal @RandeepHooda gave Outstanding Performances. @DLKKOfficial ☆☆☆☆
Sreeju Sudhakaran ‏@sree_thru_me
Off to watch #DoLafzonKiKahani. A film that claims its plot is only limited to do lafz, but will take do ghante to say it!
Seema Wadhwa ‏@CuriousSquish
15 mins into #DoLafzonKiKahani, the plot is slowly and steadily building up. An hour into #DoLafzonKiKahani, interesting adaptation of #Always, however the makers fail to keep cliché moments at bay. #DoLafzonKiKahani fails to impress despite all the hard work, eventually turning out to be a case of old book, new cover.
Priyanka Roy ‏@roypiya8
@RandeepHooda you are a phenomenal actor. You get into every character flawlessly which is the sign of a great actor. #DoLafzoKiKahani
MAYUR STUDIOS™ ‏@MayurStudios
Review: #DoLafzoKiKahani is emotional love story with, Randeep & Kajal Aggarwal's superb performances. Good direction/screenplay - 3.5*/5*
♡Mohammed Touheed♡ ‏@mohammedtouhee7
What makes #DoLafzoKiKahani special is the heartwarming moments and of course, Randeep and @MsKajalAggarwal 's wonderful performances
Kunal Jogani ‏@kunaljogani18
it's the best performance of their life #RandeepHooda n #mskajalagrawal all the best for the movie it's super hit #DoLafzoKiKahani