You might wonder how stars are also just like ordinary people when they go back home. In one of the instances, Aishwarya Rai Bachchan made a revelation at Famously Filmfare, when she was asked about what Abhishek Bachchan and she argue the most about.
She said: "You don't want to know. We are both genetically very generously been given very strong genes. So, we are inherently very strong personalities. I think there is a very fine line between arguing and discussing and that is something we are still arriving at discovering what is what. So, we discuss a lot, either politely put it as discuss, probably argue but... It has been 12 years and how many years before that we have known each other as friends. We have known each other through quite a long time. We have always conversed a lot and communicated a lot, in all its shades, in all the colours of the rainbow."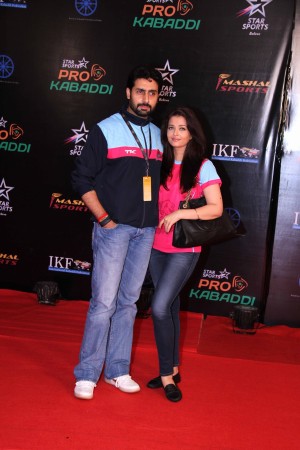 Talking about her dream proposal that happened on the sets of Jodha Akhbar, Aishwarya shared: "Ashutosh (Gowariker) is like 'you are engaged' and I am like 'yeah'. Meanwhile, Duggu gave me an excited thumbs up. We're doing Khwaja Mere Khwaja, sitting as a bride, and I am like, oh my god this is surreal, all happening on-screen, off-screen, this is bizarre."
For those unaware, Aishwarya and Abhishek got engaged in 2007. Talking about her dancing videos from Isha Ambani's wedding that went viral, Pinkvilla quoted her as saying, "It was all meant to be like discreet. We were like in our own world and suddenly all these videos are flying all over the internet. Well, I think all those who know me personally and many do in our fraternity, as well, I'm very easy. I might choose my days. I think the good part about having a real good time with me is actually being in the moment."
Aishwarya was also asked about the worst comment that she has ever heard about herself. To which, the actress told, "Fake and plastic!" Well, doesn't it ring a bell? Actor Emraan Hashmi had called her plastic on the fourth season of Karan Johar's talk show, Koffee With Karan.
On the professional front, Ahishek and Aishwarya have been confirmed being part of the film Gulab Jamun but a source recently told Pinkvilla that they both suggested certain changes and while things were being worked out, they seem to have changed their mind. Aishwarya was last seen in Fanney Khan starring Anil Kapoor and Rajkummar Rao.