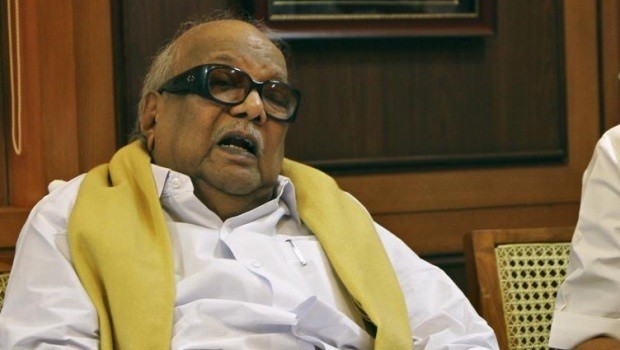 DMK Chief M Karunanidhi was admitted to the Kauvery Hospital in Chennai on Wednesday after he complained of uneasiness in breathing.
After Jayalalithaa, now DMK chief M Karunanidhi ill after allergic reaction to drug
The DMK supremo has not been keeping well for quite some time. The 94-year-old political leader has been taken to the hospital and his artificial food-pipe will be changed.
However, the doctors have said that it is nothing serious and he will be allowed to go home after the treatment, which will take around two hours.
Reports state that Karunanidhi, who currently represents the Tiruvarur constituency in Tamil Nadu legislative assembly, has been having health issues and undergoing constant medical check-ups at his house.
According to PTI, his son M K Stalin and president of DMK had said that his father could not cast his vote on July 17 Presidential election due to health reasons.
When Stalin was asked whether Karunanidhi would participate in his birthday celebrations on June 3, he had said that the DMK chief would meet everybody if the doctors permit him to attend public functions.
The DMK patriarch has been unwell since October 2016.
Earlier on December 15, 2016, he had been admitted to a hospital in Alwarpet after he had complained of difficulty in breathing due to throat and lung infection. He underwent a tracheostomy — surgically creating an opening through the neck into the trachea (windpipe) to allow direct access to the breathing tube.
As a result of his sickness, the DMK General Council meet that was originally scheduled for December 20 had to be cancelled.
On December 1, Karunanidhi had been readmitted to the hospital after he was diagnosed with allergy caused by a medicine he had used and was advised rest.