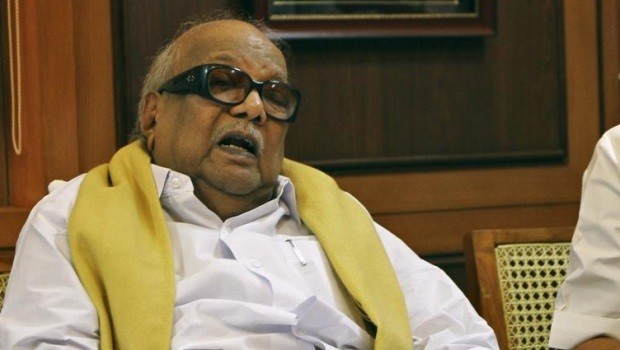 The Dravida Munnetra Kazhagam (DMK) said on Tuesday that its chief M Karunanidhi has fallen ill after developing an allergy as a side-effect of some of the medicines that he has been taking regularly.
Earlier, Karunanidhi's political rival and Chief Minister of Tamil Nadu, J Jayalalithaa, was also admitted to the hospital following an infection. On September 22, Chief Minister Jayalalithaa was admitted to Apollo Hospital after she caught fever and dehydration. She has been in the hospital for over a month now.
On Tuesday, the DMK revealed in a press release that reads: "Karunanidhi is not well as he has developed allergy due to some medicines he is taking regularly." The press release also stated that for now, Karunanidhi has been advised to take rest by the doctors and is unable to meet the visitors.
In the meantime, the DMK had called for an all-party meeting in the state to discuss the Cauvery issue. Till now, the party has moved three resolutions regarding over the issue. However, Karunanidhi's health has left the DMK members worried.