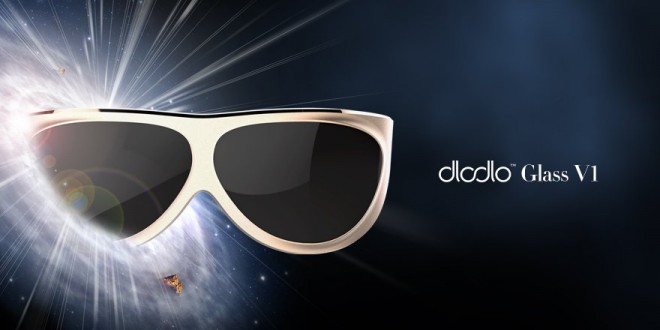 While virtual reality (VR) may be the hottest topic in the market, VR headsets are still bulky and, more often than not, require to be tethered to a computer or a smartphone. Chinese company Dlodlo, however, claims it intends to change the way VR headsets are designed and perceived.
It's offering, the Dlodlo V One, is a VR headset that looks much like a pair of sunglasses. Weighing only 78g, the V One boasts of a resolution of 2560 x 1024 pixels (more than 2K), a nine-axis accelerometer and adjustability for myopia.
While it's not apparent whether the headset will have augmented reality applications, with the image projected onto the lenses, it would however give Microsoft's HoloLens a run for its money if it did.
The V One is paired with a separate device called the D-Box, which houses a 64-core GPU, 4GB RAM and 32 GB internal storage, expandable up to 128 GB with a microSD card. The system runs a custom version of Android 5.0 Lollipop and has a 5,000mAh battery.
Android Central reported that the V One is connected to the D-Box via one of the two micro USB ports, while the other charges it. The microHDMI port on the D-Box might reportedly allow users to plug the device into a computer, allowing for higher-quality experiences.
While the Dlodlo V One and the D-Box are yet to hit the working prototype stage, it would be interesting to see the glasses connect to the D-Box wirelessly.