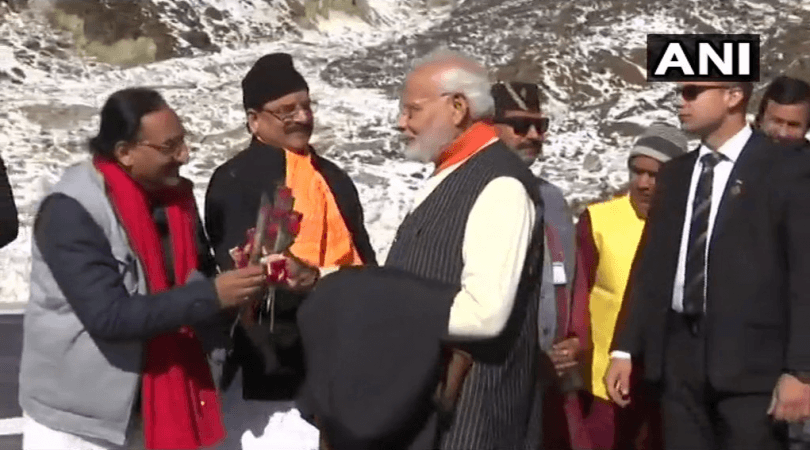 Earlier this week, it was announced that Prime Minister Modi will celebrate Diwali with the army Jawans posted in Kedarnath.
As per schedule, PM Modi reached Kedarnath at 10:00 am.
Along with visiting the Himalayan shrine and addressing the jawans posted there, Modi will also review the ongoing projects in the region such as the widening of the road to Kedarnath, the building of houses for the priests of the temple, the construction of a grand 'samadhi' of Adi Sankara and the construction of walls on the banks of rivers Mandakini and Saraswati.
Live Updates
2018-11-0713:03 (IST)
PM Modi leaves Kedarnath
After visiting the Kedarnath temple and addressing the jawans, at Harsil, PM Modi has left Kedarnath.
2018-11-0712:47 (IST)
PM Modi recounts his RSS days during his speech
"As an RSS member, I got the opportunity to live among Army men. At that time I heard a lot about One Rank One Pension.Many govts came&left.Since I was connected to you I understood your emotions. So, after becoming PM it was my responsibility to fulfill your dreams of OROP," PM Modi told when speaking to Jawans at Harsil, Uttarakhand.
2018-11-0712:44 (IST)
PM Modi gifts sweets to soldiers
After his address, PM Modi gifted sweets to the soldiers at Harsil.
2018-11-0712:14 (IST)
Watch: Modi addresses jawans at Harsal
2018-11-0711:52 (IST)
PM Modi also extends his wishes to jawans at Indo-China border
In a statement from the Prime Minister's office, Modi wished the soldiers at the Indo-china border a Happy Diwali.
He said that due to the soldiers performing their duties at the icy region, the dreams of the 125 crore Indians are secure.
2018-11-0711:13 (IST)
Modi's Diwalis with the Jawans
Ever since becoming the prime minister in 2014, Modi made it a point to celebrate Diwali with the soldiers.
In 2014, Modi spent Diwali in Siachen and in 2015, he visited the jawans posted at the Punjab border.
Diwali 2016 was at the Indo-Tibetan border and 2017 was with soldiers at Gurez in Jammu and Kashmir.
2018-11-0711:07 (IST)
Watch: PM Modi offers prayers at Kedarnath Temple
2018-11-0710:57 (IST)
Modi meets locals at Kedarnath
After offering his prayers and performing a puja at the Kedarnath temple, Modi met the locals.
2018-11-0710:34 (IST)
Modi offers prayers at Kedarnath
Prime Minister Narendra Modi offers his prayers at the Himalayan Temple fo Kedarnath. He is scheduled to spend four hours in the hilltown with the Jawans.
This is the Prime Minister's third visit to Kedarnath.
2018-11-0710:32 (IST)
Army chief accompanies Modi to Kedarnath
Army Chief General Bipin Rawat, DG ITBP Deshwal, Army Commander Lt Gen Abhay Krishna are accompanying PM Modi in Kedarnath.
2018-11-0710:29 (IST)
Modi took a chopper from Dehradun to Kedarnath
Modi arrived at Dehradun on Wednesday morning from where he took a chopper to Kedarnath.
2018-11-0710:28 (IST)
He addressed the army at Harsil in Uttarakhand
In Modi's address to the jawans at Harsil, Uttarakhand, he said, "Your devotion to duty in the remote icy heights is enabling the strength of the nation, and securing the future and the dreams of 125 crore Indians."
Modi also spoke about the various welfare schemes for ex-servicemen and the one rank one pension scheme.
2018-11-0710:24 (IST)
PM Modi celebrates Diwali with Jawans
Prime Minister Narendra Modi is celebrating Diwali with the soldiers for the fifth time in a row.
On Tuesday, he said, " Every year, I visit our border areas and surprise our troops. This year too, will spend Diwali with our brave troops. Spending time with them is special."