Amazon India's Diwali Dhamaka week began on Friday with a promise to not disappoint its customers after India's e-commerce giant Flipkart let down its valuable buyers on the "Big Billion Sale" day on Monday.
The sale will begin at 7am and end at 6 pm every day till 16 October, without any disruption, as promised by Amazon.
Unlike Flipkart, which went out of stock on many of its product after only a few purchases, Amazon's stock has been maintained abundantly with the additional option, "Join waitlist," for those who wish to buy the product that has run out of stock temporarily.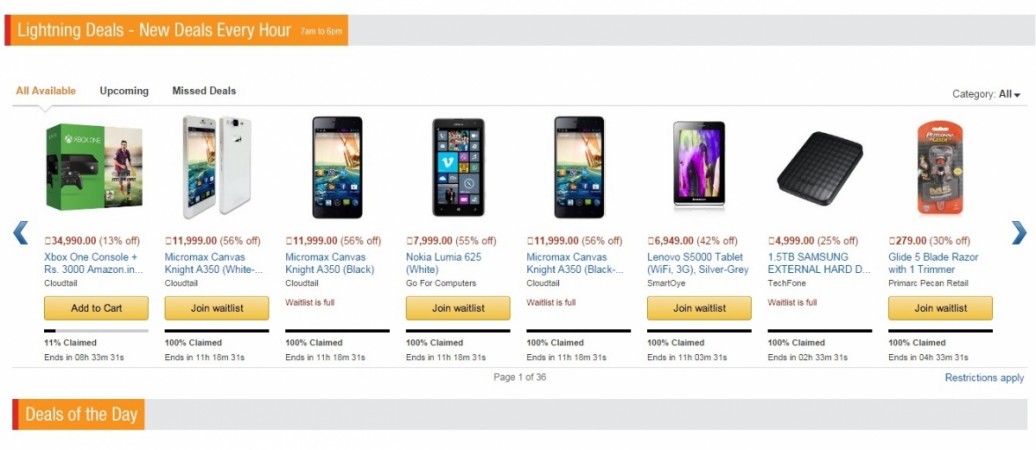 Learning from its rival's mistake, e-commerce giant Amazon India has very tactfully managed the website for the big week, to ensure convenience and clarity for the customers. They have enabled the wish list for customers to add as many products they wish to purchase, and promised their buyers that they will not have to leave the website empty-handed.
Products
Keeping in view India's one of the biggest upcoming festive occasions, Diwali, Amazon has everything from electronics to ethnic clothing, home-furnishing products, home appliances accessories and even sports item on the sale list.
Smartphone, including Nokia Lumia 625, Micromax Canvas Knight have been put up on sale for more than 55% off on MRP. Watches, water purifiers, bags and backpacks, Diwali decors, utensils, cosmetics, artificial jewelleries, food items and much more are on Amazon's sale platter.
Along with several items on sale to buy on this Diwali, Amazon offers its customers gift vouchers to send gift to their friends and relatives on this festive occasion and get instant return gift from the e-commerce giant.
As Amazon is giving all efforts into making this sale a happening event for its customers, many seem to be happy and satisfied with what the company is offering on their big week. Though a few seem to be unsatisfied with the festive discounts.
jhumpa lahiri's 'the lowland' at 66% discount on amazon diwali sale..quite a good bargain.

— Neo (@meetneo) October 10, 2014