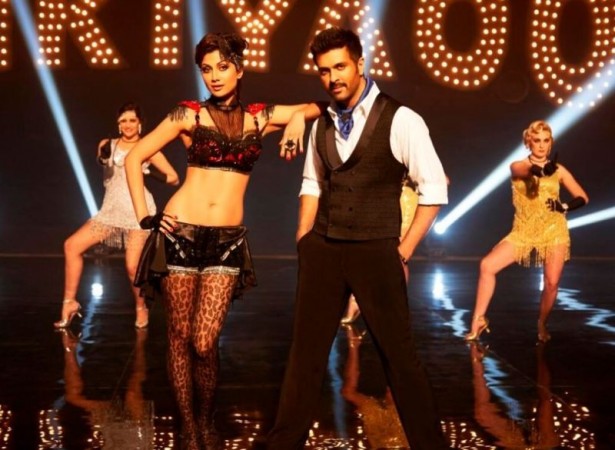 Film critics have slammed the action thriller film "Dishkiyaoon" which marks the return of Harman Baweja. Released on 28 March, "Dishkiyaoon" has failed to impress the critics.
The film which also stars Sunny Deol has received 0.5 to 1.5 stars from critics.
The film marks the debut of Shilpa Shetty Kundra and her husband Raj Kundra as producers.
Check out the reviews here:
Mohar Basu of Koimoi.com said: "Dishkiyaoon is a film that is at best can be described as convoluted mess. Told in a linear fashion, the film is flat. With nothing alluring or inspired in the movie, teamed with bad music and worse acting, you absolutely must give this film a miss for your own good. Just a bad Friday, let it pass.
"Perhaps on paper there was enough material to make the film seem interesting but it is so pretentious when translated on celluloid. The reason is clear. There is no detailing in the film.
"Harman Baweja's acting skills haven't improved much since his last stint. Still low on acting skills, the actor doesn't emote right which fails to add layers to his character. I have no idea what Sunny Deol is doing in this film. Who he is, is unclear for most part of the film and after a while you lose interest in the film.
"Dishkiyaoon is a bad film. There are no second thoughts or views on that. Terrible acting and a horrible screenplay is crucially damaging to this movie."
Taran Adarsh of Bollywood Hungama said: "Seeking inspiration from some of the best gangster films isn't sacrilege, but like I pointed out at the outset, isn't the genre over-exploited? And anything in excess loses sheen, right? Again, serving the tried-and-tested stuff is not an issue, but the material ought to have the power to keep you absorbed and engaged. Unfortunately, in this case, the recipe is right, but the flavor isn't.
"On the brighter side, a couple of action pieces catch your eye, but there's an overdose of violence here and it gets on your nerves after a point. The soundtrack is mediocre, although, frankly, there's not much scope for songs here.
"On the whole, DISHKIYAOON misses the mark!"
Manjusha Radhakrishnan of Gulf News said: "This mobster drama, touted as Baweja's comeback vehicle after his 2009 debacle What's Your Rashee?, is laughable and unintentionally funny. The gangsters in this drama speak in rhymes and riddles.
"If you thought Baweja wasn't charismatic enough to pull off a gangster's role, then wait till you see Deol in action. He speaks Hindi in a Harayanvi accent and is under the mistaken belief that broken English with whacky pronunciation (time become tame and fun becomes pun) equates to sly humour. While Baweja looks good shirtless, flaunting his bronzed torso, I wish he had also injected some soul into his role. What redeems this film is the eventful pace. There's gang wars, drugs being smuggled from Iran and copious tears shed during heartbreak (yes, gangsters have hearts too).
"Sadly, this viewer had reached a stage where she was beyond caring."
Sneha May Francis of Emirates 24/7 said: "Debutant director Sanamjit Talwar's 'Dishkiyaoon' is a lethargic attempt at a story centering around the murky affairs of Mumbai's outlaws. The sluggish narrative over the first hour shifts between the past and present as we learn of how Viki abandons his Gandhian father to adopt the life of a criminal.
"When he's not talking of guns and his thirst for power, you find him arm wrestling the older crook, or randomly sketching on the walls. It's that random or "poetic", as the filmmaker would have us believe.
"Harmen Baweja, despite appearing earnest in his effort, lands at the bottom of the Bollywood gangster ranks. Sunny Deol appears aged and genuinely uninterested while Prashant is armed with nothing more than a leather jacket and a sly grin to make an impression.
"As we walk out of the theatre, we are left with an image of Harmen pointing a gun at himself, almost echoing the state of our mind."