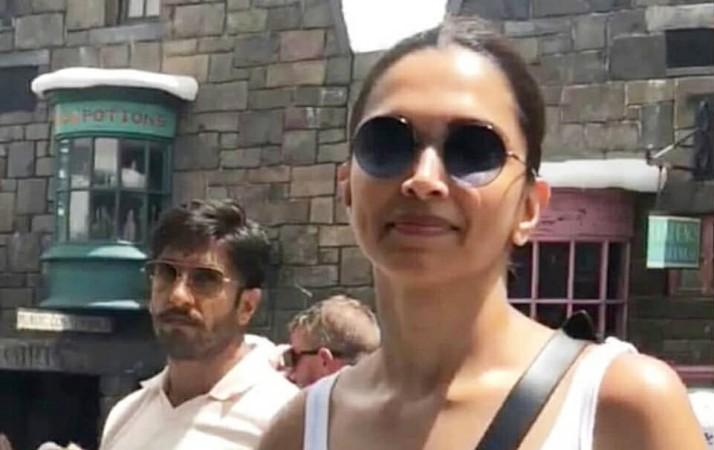 Deepika Padukone and Ranveer Singh were recently having some private time together in the US as a video appeared on social media that shows the power couple walking hand in hand on the streets. However, a fan, who claims to have recorded the video, has now accused the Padmvaat stars of "attacking" her for the act.
The video shows the fan greeting Deepika and Ranveer while recording it, and asked for a picture with them. The actress instantly left Ranveer's hand and approached the woman, apparently to stop the recording, and that is where the video ends.
While the video has gone viral on social media, the woman who claims to have recorded the video, alleged that Ranveer and Deepika "attacked" her when they noticed she was filming them. She slammed the two stars calling them "disgusting" and added that "fame got to their head". She claimed to be a big fan of the two stars, but not anymore.
The lady's comments received strong and mixed reactions on social media platforms. While some agreed with her and extended support to her, many others opined that it was the lady's fault as she was filming them without their permission. They said that celebrities too have right to privacy.
However, this argument was challenged by many who stated that they could have asked her to stop the recording in a polite way. Some others are of the view that the lady made up this story to seek attention.




Later, the lady made a long post on Instagram story, explaining what happened, and why she is hurt.
For all the negative comments I'm receiving about my interaction with Deepika and Ranveer, I would like to make a couple of things clear. I was a really big fan, but after meeting such horrible people I have no words. First of all I did not "Follow them around" I'm not a damn paparazzi. I am on vacation and I have better things to do with my life than chase around celebrities. Yes, I did get very excited and I recorded them from a distance and I asked very politely if I may take a picture with them. ANYONE would've recorded them and for those of you saying we would respect their privacy we all know anyone would've recorded.

When she walked towards me smiling, I really thought she was coming to take a picture, but her and Ranveer actually came and yelled at me. Also the reason why I did not record them yelling at me is because they were right in my face and I was traumatized by their loud tone. All I have to say is that I lost so much respect for these actors and it made me realize how much fakeness we are exposed to. Everyone who is idolising these celebrities are defending them like a damn lawyer. I hope you all meet them once so you understand the unnecessary disrespect I went through!
Ranveer and his lady love have already come back to Mumbai, and another video from the airport has caught people's attention. The video shows the duo exiting the airport holding each other's hands, and before bidding Deepika goodbye, he kissed her too.
All these videos and the couple's open PDA further suggests that their impending marriage rumours are not false. Fans are excited to believe that Deepika and her beau are going to tie the knot soon.