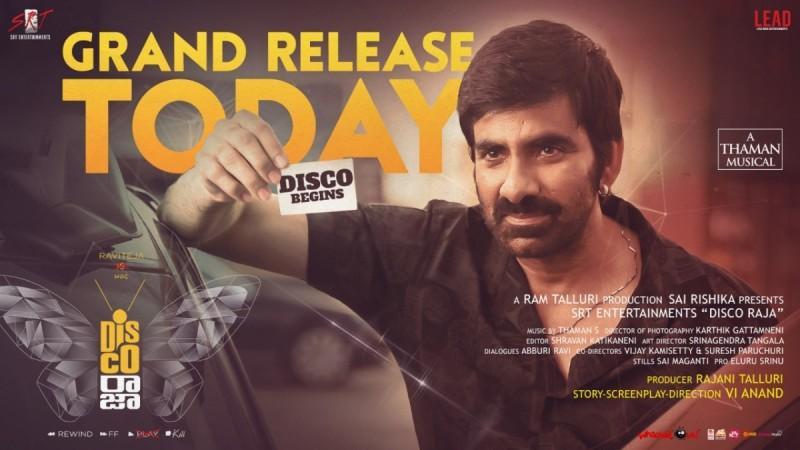 Director Vi Anand's Telugu movie Disco Raja starring Ravi Teja, Payal Rajput, Nabha Natesh and Tanya Hope has received positive reviews and ratings from the audience around the world.
Disco Raja is a science fiction action film and Vi Anand has written story, screenplay and dialogues in association with Abburi Ravi. Ram Talluri has bankrolled the flick under his banner SRT Entertainments. The movie has received a U/A certificate from the censor board and its runtime is 2.30 hours.
Disco Raja story: Raj (Ravi Teja) is working on a medical project and forwards his research to the Indian Council of Medical Research. But the council rejects his project and denies him permission to continue his research project. Despite this heavy drawback, he manages to gain the financial support of a few corporate giants. How he achieves his goal forms the crux of the story.
Analysis: Director VI Anand has chosen a fresh and interesting story and created an engaging and entertaining screenplay. Disco Raja has several interesting twists and turns. The director is successful in making it a nail-biting watch, say the audience.
Performance: Ravi Teja has delivered a brilliant performance, which is the main highlight of Disco Raja. He wins your heart with mannerisms, dialogue delivery, fights and comedy timing. Payal Rajput, Nabha Natesh, Tanya Hope, Vennela Kishore, Satya, Ajay and Bobby Simha have done justice to their roles. They are also among the big assets of the film, said the audience.
Technical: Disco Raja has good production values and music, picturisation, fights, dialogues and VFX works are the attractions on the technical front. These aspects make the movie a visual treat, add the viewers.
Disco Raja movie review live updates: We bring you some viewers' reactions to the film shared on Twitter. Scroll down to see the audience's response.
Nikhil @Nikcricmovies3
First half decent.. but movie turns into routine revenge drama.. Max one time watch....offers nothing new.. but better than @RaviTeja_offl last few movies...Mass Maharaja genuine hit kosam koncham time wait cheyali sadly ☹️ ☹️ #DiscoRaja #DiscoRaja movie has few good moments though..I loved the interval a lot..#ViAnand should have made the screenplay little more engaging...@raviteja characterization is interesting in parts...Box office response ela untundo chudali mari
Sri C Arram @arram_charan
#DiscoRaja is very impressive. Fresh concept & writing, proper usage of #MassMaharaja @RaviTeja_offl's energy. Kudos @Dir_Vi_Anand. @MusicThaman is on a roll & #RumPumBum's fight version is excellent. #KarthikGhattamneni what visuals @sarigamacinemas @SRTmovies @itsRamTalluri
Homework @paathalabhairav
#DiscoRaja 3.5/5* I enjoyed this gangster drama! Though it had bits of lagging I really loved the gangster part. Loved Bobby Simha's role and climax is shocking!!!!!!! If it didn't have that climax, the complete experience would've been different. @MusicThaman I love you man BGM
FARUK RAM ❤️ @shaikfa34072144
#DiscoRajaDay SUPER-B Story, Climax Seems Intresting and will Create HYPE - Among Audience First -Half : Good and Intresting Second -Half : Excellent Acting : Superb #Raviteja Best Film till Date Direction : #ViAnand Seems Missing in 1st-Half #DiscoRaja @RaviTeja_offl#DiscoRaja Retro..Gangster..Scifi anni kalipi kottadu.. different movie... @RaviTeja_offl energy and screen presence Bobby Simha was good... @MusicThaman Bgm excellent ala lepadu scenes... Overall bagundi...
Karthik @nameiskarthiik
#DiscoRaja Mass Maharaj Is Back with A BANG! Ok First Half! Super second half! @MusicThaman Anna! BGM ichi padesav..! Huge asset to the movie! @RaviTeja_offl energy @Dir_Vi_Anand unique concept #Kartik visuals top notch! Must watch
Surya Sunny @suryavamsisunny
#DiscoRaja @RaviTeja_offl high energetic performance throughout the movie.@NabhaNatesh outstanding performance. @MusicThaman you nailed it bro..BGM and songs were lit . @starlingpayal perfect acting. Blockbuster #DiscoRaja
Sai Anurag @SaiAnurag6
1st half done started slowly with a very good interval twist !! #Discoraja #Discoraja second half is good mass Raja iragateesadu climax twist no one will expect overall decent movie !!
Venkateshv @vickey9036
#DiscoRaja @RaviTeja_offl Acting & sceen presence,Retro looks Thaman Songs & bgm thop Cinematography Block buster bomma Don't trust reviews , go for it
Vamsi Tarak Devotee @VamsiCh82471174
OK first half , super Second half From USA premiers @RaviTeja_offl irragakottesadu performance #DiscoRaja
Ravi Babu @gulabi_govindu
#DiscoRajaOnJan24th Typical screenplay movie ... One man show @RaviTeja_offl songs and fights too good overall GA average bomma ani talk
PaniPuri @THEPANIPURI
#DiscoRaja First Half Report-Above Average Good Production Values Good BGM Confusing Screenplay Good Interval Twist Lags A Lot Depends on 2nd Half.. #RaviTeja #NabhaNatesh #PayalRajput
AkhilAneNenu @akhil_maheshfan
Such a wasted opportunity..interesting theme but Director dealt it as a routine commercial entertainer..@RaviTeja_offl tried to hold the film together with his energy and performance. Strictly one time watch just for Ravi Teja! Cinematography bgm #DiscoRaja
Siddhu @gopal_alapati
Ravi teja body language kekaa.. As usual thaman dude kummmadu!! @MusicThaman Differentt movie.. bane undii! I liked it. #DiscoRaja