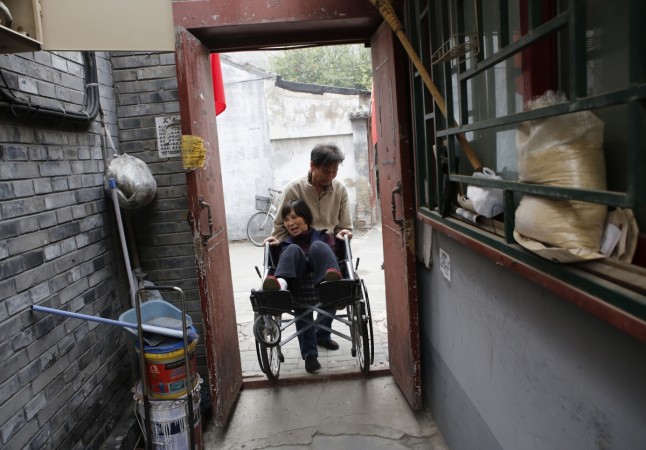 The Chinese government prevented foreign diplomats from visiting Ni Yulan, a disabled human rights lawyer, almost three weeks after she was stopped from visiting the U.S., where she was due to receive the International Women of Courage Award by the country's State Department for her work. She has reportedly been kept under house arrest for the last 13 days.
Plainclothes police prevented diplomats from visiting her, she told Reuters on Monday. Five foreign diplomats from European Union, Germany, Canada, France and Switzerland had wanted to visit her and deliver food to her, she added.
"Because of my health, and our terrible living conditions, some diplomats from five countries came to see me last Saturday," she told Voice of America. "They brought me food, greetings and blessings, but they were stopped by six plainclothes [police officers] outside the courtyard ... [who] hurled insulting remarks at them. When my husband heard the diplomats were here, he went out to meet them. He was also insulted by the plainclothes."
The French and German embassies confirmed to Reuters that their diplomats were part of the group who went to visit Yulan.
John Kerry, the U.S. secretary of state, was quoted by Reuters as saying that she paid a "steep price" for her work.
The award she was supposed to receive in the U.S. recognises the work of female activists who fight for justice, gender equality and human rights. In March, she was refused a passport, and said that she and her husband were evicted from their house. She was also quoted as saying by BBC that her husband was beaten up. She also said that she was placed under a travel ban.
China's Foreign Ministry had said in March that the U.S. has "ulterior motives" for giving the bravery award to her.
"The U.S. awarding a prize to this sort of person is completely out of ulterior motives," Hong Lei, foreign ministry spokesman, was quoted as saying by Reuters. "We oppose foreign governments making use of the human rights issue to infringe on China's domestic affairs."
Yulan, who became disabled in 2002 due to police brutality, has been jailed repeatedly for fighting against the government as it evicted people from their homes for development, according to Reuters. She was also jailed that year. Later, in 2008, she was jailed for fighting against forced evictions of people for the Olympics Games. In 2012, she and her husband, Dong Jiqin, were jailed for "fraud" and "making trouble," according to the Guardian.
Yulan is one of the many dissenters who were jailed since President Xi Jinping assumed office.