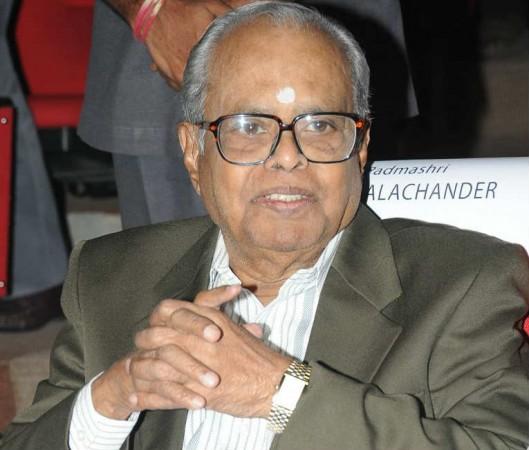 Director Ram Gopal Varma, who tweeted about the "death" of director K.Balachander, has apologised for his twitter blunder.
The director had posted, "Feeling sad for the passing away of K. Balachander the only true maverick director of Indian cinema." Although RGV removed the tweet after realising the mistake, it was too late and stirred an online row.
The director has now apologised for posting about the demise of the director and has also wished him a fast recovery. "My apologies for tweeting about Mr.Balachander without checking on the rumour. Wishing him a speedy recovery," he tweeted.
The ace director was admitted to Kauvery hospital in Chennai due to age-related ailments. Although his general condition is stable, he is still critical. He is undergoing treatment for urinary tract infection, according to a press release from the hospital.
Meanwhile, several film celebrities and politicians have been visiting the director at the hospital. Rajinikanth, Khushbu, KR Vijaya, Vivek, Vijayakumar, Rajesh and DMK leader MK Stalin were among those who visited the director. Some of them have even updated about the health status of the director on their twitter handles.
"Pls understand #K.Balachander sir is on the road to recovery..its old age related problems..show some respect to the Legend n pray 4 him," tweeted Khushbu.
"Just coming out of hospital.Our legendaryDir.KB sir is showing signs of improvement.Our prayers will bring him bk. Plz don't believe rumors," tweeted Vivek.
Actor Kamal Haasan, who is in Los Angeles, has posted a message on his Facebook page wishing his mentor a speedy recovery. In his message, Kamal said that he spoke to the director and told him that he would visit him as soon as he completes the post-production work of his upcoming film "Uttama Villain." The actor further stated that he did not understand a single word that the director told him while speaking on the phone for a few minutes.
Balachander has worked with Kamal Haasan in more than 40 films. The director has played the role of a mentor in Kamal's "Uttama Villain," which is expected to hit screens soon.