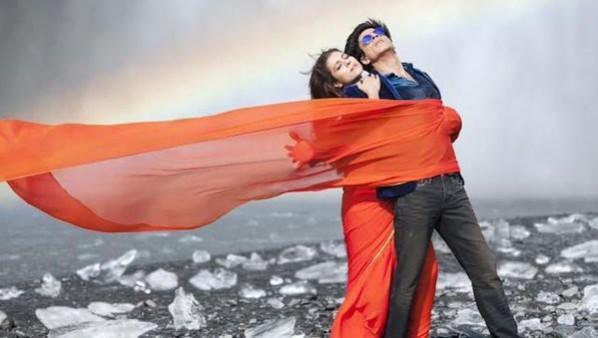 Director Rohit Shetty's most-awaited Bollywood movie "Dilwale" starring superstar Shah Rukh Khan, Kajol, Varun Dhawan and Kriti Sanon in the lead roles, has received mixed reviews from the audiences around the world.
Check: Dilwale Review | Critics Review | Celebs Review | Box Office Collection
"Dilwale" is a musical romantic film, which is also high on the action and comedy quotient. Yunus Sajawal has written the script for the movie, while Sajid-Farhad penned dialogues. Rohit Shetty has co-produced the film with Gauri Khan under the banner Red Chillies Entertainment and Rohit Shetty Productions. The film has Amar Mohile and Pritam Chakraborty's music and Dudley's camera work.
Dilwale revolves around the story of the children of two competing families, who meet again after a 15-year separation. How this couple tries to overcome the violent conflict between their respective families forms the crux of the movie. The audiences, who have seen the film, say that it has a predictable script, but some masala elements keep the viewers engaged.
Check: Bajirao Mastani Review | Critics' Review | Celebs Review | Movie Posters
The audiences say that the sparkling chemistry between Shah Rukh Khan and Kajol is the main highlight of the movie. Rohit Shetty's direction, melodious music, amazing choreography of songs, gravity-defying action scenes, silly-slapstick comedy, beautiful locales and picturisation are other attractions of the film.
We bring you some viewers' verdicts shared on their Twitter handles. Here is the live update of "Dilwale" movie review by audience:
Sumit kadel ‏@Sumitrajkadel
Watched #Dilwale-First of all I would like to congratulate Rohit shetty for outdoing Himself in #Dilwale. His best direction till date. First Half of #Dilwale has a nice pace with rib tickling comedy sequences.@iamsrk Entry scene with johny lever is outstanding. The story line took pace just before interval with lots of twist n turns.Second half is equally good.Acting of Srk kajol is mind blowing. Last 20 mins of the film is designed for Hard-core family audience and they are going to love it.@vaeunha97 @kriringa did an awesome job. Overall #Dilwale is twice better den CE.Good family drama with loads of comedy action & drama. M not a critic. But il give dilwale 3.5 */5
Taran Adarsh ‏@taran_adarsh
#Dilwale delivers King-sized entertainment. Treat for SRK-Kajol fans. My review: http://bit.ly/1QsuTcR
KRK ‏@kamaalrkhan
Finally it's interval n #Dilwale is full on family masala but entertaining film. One has to leave his brain outside the theatre to watch it.
Faraaz Mohamed ‏@frz_aju
DILWALE -A Complete Entertainment !! Full on masti drama|Comedy|Power pack and Realistic action |Romance|Suspense thriller❤ cont.#Dilwale
Sree Prasad Nair ‏@i_spn
Varun Dhawan @Varun_dvn is slowly slowly emerging as the next Salman Khan of Bollywood. Amazing screen presence. Smart One-liners #Dilwale Only Rohit Shetty can direct such SHITTY stunts. ERRR!!!!! #Dilwale SRK-Kajol messing up everything in #Dilwale. Only saving grace is Varun and to some extend Kriti #Dilwale #Interval So far #Dilwale is a big disappointment. Predictable with same old lover boy SRK revenge story. Only saving grace is Varun Dhawan. SRK is doing 1 film per year. Then why can't he choose a good script? Same lover boy image... Same revenge boy. Tired and Boring!!! #Dilwale Hahahahaha talking to each other after 15 years with a song, and yes there's rain Wah Rohit Shetty? #Dilwale You gotta feel for Varun. Such a sincere and winning performance spoiled by boring story. #Dilwale Yes! Some love stories will never end! It will force many to leave the cinema hall and escape before the climax. #Dilwale #Dilwale Weakest film of Rohit Shetty, Poor script. But the hype & SRK-Kajol, Varun presence will give a bountiful weekend and a chance @ BO
A. Dreamer. ‏@Beeros75
Loved the action sequences, Truly fascinating! totally professional way more than i imagined, Hollywood must take note here #Dilwale @iamsrk #Kajol is magnificent. in every way, her talent is pouring, so natural& a true emotion monster on screen! What a COME BACK Her eyes dialogues with yours stunned me. i cried with you and laughed. The love strains took me,i felt so close to you in #Dilwale Too good the direction, the locations, picturesque and colorful. #Dilwale introduced me to @Varun_dvn And i loved his energy! He added so much to his role, simple and yet profound! Hats off to him What a beauty you are @kritisanon! Standing her ground beside mega acting superpowers like you&Kajol really impressive! Everyone did amazing! Jonny lever cracked the hell outta me! Sanjay mishra, @varunsharma90 All #Dilwale Team touched my heart.. Every twist, every camera still is art in motion. You took your viewers into your heart and how i loved Kaali..Well done #Dilwale The Comedy was so farce like, natural and light heartening, the story line is the key note here, dramatically intriguing! Music and songs brewed in, u and kajol must not stop acting together cos you get each other well and she fills your screen.
Aditya Anil ‏@Aditya7Dhoni
Just watched #Dilwale and can say its just fabulous. Total family entertainer with comedy, action, beautiful songs and love. 4.5/5 @iamsrk
Muhammed Ariff ‏@muthusubanya
#Dilwale interval!!! Okayish!! Big drawback is we can pridict next scenes and twist easily!! Kajol Sharuk as usual rocks but rohit #Dilwale comedy scenes #Dilwale post interval 30 minutes!!!! Poor comedy like 1970 s....boring!!! Rohit bhai #Dilwale Rohit vachi chennjitan #Dilwale completed!!! Predictable up to the ends!! Poor comedy!! Water thin story line..expected lot!! Disappointed!! Wakeup Rohit bhai!!! #Dilwale watch it only for Kajol and Sharuk romance and chemistry!!! That too very few scenes!!! Balance crap!! Go with less expectation.
Sidhu ‏@sidhuwrites
#Dilwale Interval: Your flashy Bollywood biggie which is both filmy and fake. Not expecting anything new, yet this is barely engaging. #Dilwale: What a colossal mess. Rohit Shetty tries his hand at a family dramedy which is neither funny nor serious. Need to unwatch this. #Dilwale: Nothing interesting all over, just plain predictable drama with tons of rushed clichés and contrivances. Watch at your own risk.