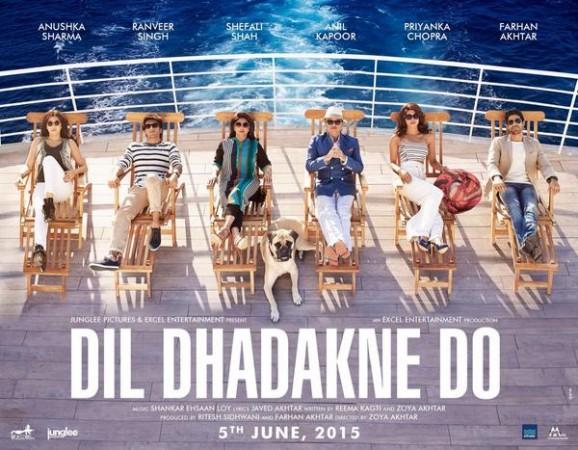 Zoya Akhtar's "Dil Dhadakne Do" trailer has triggered a phenomenal buzz and the hits on YouTube are a testimony to the fact that it's being liked and appreciated by viewers.
In a matter of 48 hours or less, the trailers has garnered close to 2 million hits. However, it still didn't break Hrithik Roshan's "Bang Bang" record. The teaser to the action-thriller reportedly managed 2 million views in a day, also making it the fastest Hindi film ever to have crossed the 1 million mark in 13 hours.
The cast took to Twitter to thank fans for the overwhelming reponse:
Ranveer Singh: So much love for the #DilDhadakneDoTrailer ! Thank you all !!! :)))
Priyanka Chopra: Love this! Thanks for all the love for the DDD a trailer - loving the feedback!
Anushka Sharma: So amazing to see the kind of love you are all feeling for the #DilDhadakaneDoTrailer .. It's awesome ! Thanks guys ! Happy happy (sic).
Farhan Akhtar: Thank you to each & every one of you for all the love you're showing to our #DilDhadakneDoTrailer .. Big hug.
Anil Kapoor: The response to the #DilDhadakneDoTrailer is heartwarming and humbling. Thanks to each & every one for all your love @DDDTheFilm.
The film follows the story of dysfunctional family -- Anil Kapoor (Kamal Mehra), Shefali Shah (Neelam), Priyanka Chopra (Ayesha), Ranveer Singh (Kabir) and Pluto – who take off on a cruise only to discover the relationship they share with one another. Farah Ali (Anushka Sharma) plays the baggage-free love interest to Kabir, whereas Sunny Gill (Farhan Akhtar) has a love-hate situation going on with Ayesha.
Slated for a 5 June release, the film also features Rahul Bose in a key role.
Watch the trailer here: