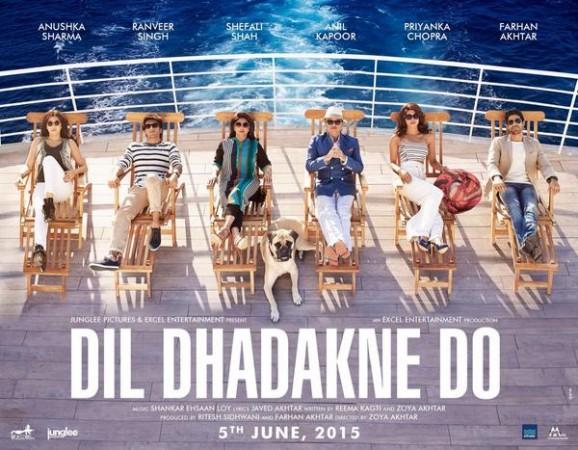 Keeping almost every aspect of "Dil Dhadakne Do" under wraps has finally paid off. While the Twitter response to the trailer release is phenomenal, this Zoya Akhtar directorial is sure to deliver something new and fresh to movie goers.
Truly a 'dysfunctional' Punjabi family – Kamal Mehra (Anil Kapoor), Neelam (Shefali Shah), Ayesha (Priyanka Chopra) and Kabir (Ranveer Singh) – set off on a cruise trip only discover relationships while on the beautiful journey.
Farah Ali (Anushka Sharma) and Kabir's chemistry is infectious and brings back old memories, Ayesha and Sunny Gill's (Farhan Akhtar) interactions don't look very promising though. Expect picturesque locales, quick wit, subtle-yet-convincing plot and fun fashion from this caper.
Scheduled to release on 5 June, the comedy-drama is produced by Junglee Pictures and Excel Entertainment.
Here's the Twitter response:
Ayesha and Sunny: Mummy I want to watch the movie right now! #DilDhadakneDoTrailer
Mahima: What a superb #DilDhadakneDoTrailer and @RanveerOfficial is looking soo damn handsome. Now just waiting for 5th June. (sic)
Kabirs Tvii: Oh yea!! Ranveer Singh is here to make your 2015 evn more awesome #DilDhadakneDoTrailer
KABIR Ki Kkkkiran: Zoya Aktar you are a bloody genius!!!!! Bows down!! #DilDhadakneDoTrailer
Abhimanyu Kanodia: #DilDhadakneDoTrailer Interestingly FRESH.
Tanveer Siddiqui: In love with the #DilDhadakneDoTrailer Sexy trailer ,such a refreshing one Cant wait for the movie! @DDDTheFilm
Sibtain: @KedarBaba @RanveerOfficial He looks like he's in his early 20's. So dapper. #DilDhadakneDoTrailer
Suvidha: #DilDhadakneDoTrailer is super fun !! Beautiful locations & awesome cast.
Check out the trailer below: