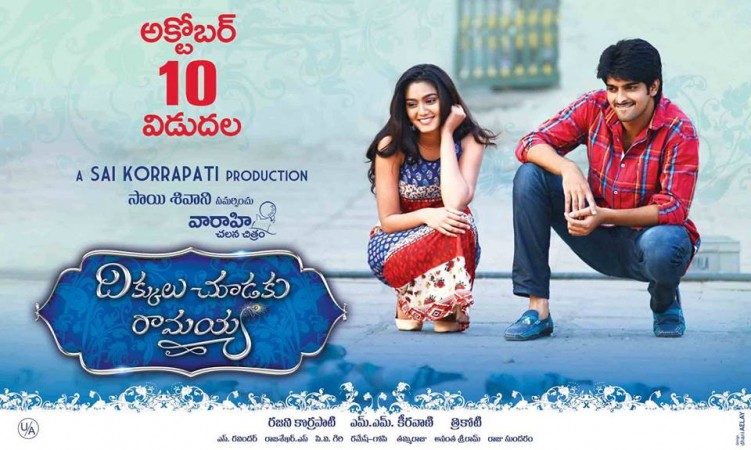 Ever since it was announced, "Dikkulu Choodaku Ramayya" (DCR) starring Naga Shaurya, Sana Maqbool, Ajay and Indraja in the lead roles, has been creating ripples in the media. One big reason for it is that the film marks the debut directorial of Thrikoti, the associate of ace filmmaker SS Rajamouli.
Having released in theatres on Friday, 10 October, the movie is getting positive response from the viewers.
The film is produced by Sai Korrapati and Rajani Korrapati under the banner of Varaahi Chalana Chitram and the music is composed by MM Keeravani. As per the viewers, the film, which has bagged a U/A certificate from the Censor Board, is a wonderful comedy entertainer.
Trikoti has penned the story and screenplay of the film, which deals with the story of a father and son, both of whom fall in love with the same girl. Ajay and Naga Shaurya are playing the roles of the father and the son respectively, while new-comer Sana Makbul appears as their love.
The audience are of the view that the script is the big plus point of the film. Remarkable performances by the lead actors and amazing background score of MM Keeravani are other highlights of the film.
After watching "Dikkulu Choodaku Ramayya", Sangeetha Devi, a film critic and special correspondent with The Hindu, took to her Twitter page, saying, "Concept wise, Dikkulu Choodaku Ramayya goes where not many mainstream films go. I wish I could root for it wholeheartedly, but but but..."
Sangeetha continued, "Ajay and @ActorShaurya put in solid performances. First Oohalu & now DCR, Naga Shourya has huge potential. Dikkulu has a few wow moments, smartly written. But such a pity they couldn't leverage on the unusual concept. Left me underwhelmed."
RJV, a film critic and senior executive at MAA TV, tweeted, "#DikkuluChudakuRamayya ... slow start and okay 1st half...2nd half super sloww and miru dikkulu chustaru...mari bore koditey give a watch."
Meanwhile, producer Anil Sunkara posted on Twitter that, "Dikkulu Choodaku Ramayya is a very good refreshing movie and a very good entertainer. A very good movie for Sai garu and 3koti. Must watch."
A fan, Ravi Teja, tweeted, "MMK BGM and few funny scenes are good in first half #DCR. #DikkuluChudakuRamayya Second Half Chukkalu chupinchaadu...."
Another viewer, Chaitu Reddy, tweeted, "#DikkuluChudakuRamayya 1st Half is super funny...refreshing songs and bgm by @mmkeeravaani."