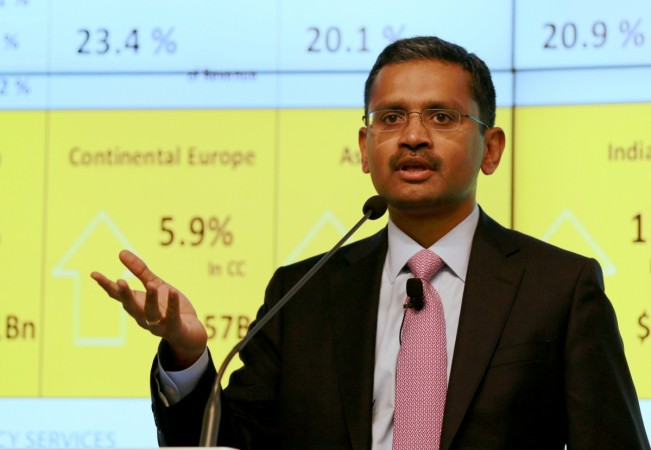 India's largest software services exporter -- Tata Consultancy Services (TCS) -- is witnessing digital deals of "significant size," according to chief executive officer (CEO) and MD Rajesh Gopinathan said.
"What we are seeing is that some deals are starting to come which are of significant size and some of them are coming in unexpected areas also. In more traditional ones like cloud and other areas also, deal sizes are significantly increasing," Gopinathan explained while speaking at an investor call.
Revenue from digital engagements contributed 19.7 percent of TCS' total revenue of Rs 30,541 crore in July-September 2017 quarter. During the second quarter, digital engagements revenue has also grown 31 percent on a year-on-year basis, PTI reported.
The company stated that clients are turning agile and new cutting-edge technologies like automation and cloud technologies would enhance the customer experience in coming days.
"TCS is pursuing very large engagements in the Internet of Things (IoT) space worth multiple tens of millions," added Gopinathan.
The 46-year-old CEO, who succeeded N Chandrasekaran in February, said that clients are moving to 'Business 4.0' where they are looking at using technology to make data-driven decisions and enhance customer experience. He attributed the strong performance of the company to the investments made in re-skilling workforce.
Gopinathan said that TCS is doing a number of small pilot projects in some critical consumer-related areas involving IoT, automation, artificial intelligence, analytics, integration of video technologies, facial and voice recognition technologies. "The traction shows up in the steadily increasing size of digital deals, and in our digital revenue growth, as well as in our client metrics," he added.
Last week, TCS had reported a rise in net profit of 8.4 percent to Rs 6,446 crore in September quarter from Rs 5,945 crore in the corresponding quarter last year. The IT firm said in an exchange filing on BSE that revenue of Rs 30,541 crore for the quarter under review was up 3.2 percent from Rs 29,584 crore sequentially and 4.3 percent up from Rs 29,284 crore in the like period a year ago.