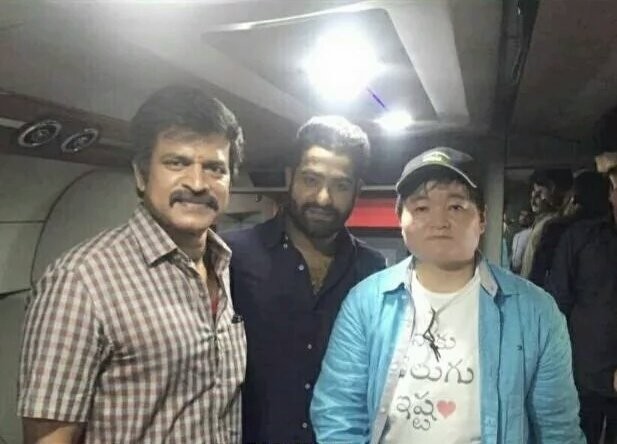 A die-hard Japanese female fan of Junior NTR met him on sets of the movie, "Janatha Garage" while the team was busy celebrating the birthday of actor Brahmaji, who is playing an important role in it. The fan, named Naan, had reportedly travelled all the way from Japan to meet her favourite actor in Hyderabad.
She visited the sets of "Janatha Garage" on Monday, when the film's unit was gearing up to celebrate the 51st birthday of Brahmaji. The team was excited to receive the surprise visitor on the set.
Naan spoke to the team of "Janatha Garage" and revealed that she has watched all the movies of Junior NTR. She surprised everyone on the set by talking about "Baadshah," "Brindavanam" and "Student No 1." NTR's public relations manager Mahesh S Koneru tweeted, "Was pleasantly surprised to see Ms Naan talking about Baadshah, Brindavanam Student No1 films and dialogues.. She's trying to learn Telugu."
The birthday celebrations of Brahmaji saw him cut the cake that was brought by the team of "Janatha Garage." Later, the comedian tweeted a photo featuring the young tiger feeding him cake and thanked him for it. He wrote, "Thanks Tarak..#JanathaGarage #onlocation."
More photos featuring the birthday celebration on the set of "Janatha Garage" made their way to the social media. We bring you some pictures that are trending on Twitter. Check them out below.
The shooting of "Janatha Garage" is now going on at a specially erected set in Saradhi Studios, Hyderabad. Junior NTR and Samantha are taking part in the third schedule with other cast and crew members. The team is toiling hard in the soaring temperatures. NTR tweeted a photo of the team working on the set on April 16 and wrote, "Hats off to the dedication of our crew. beating the heat#janatha garage."
Sources from the production team say they have already wrapped up the shooting of two fight sequences and they plan to film three more action sequences in June. The team has decided to shoot the songs in May. They want to complete all the production work of the movie by the end of July and release the movie in theatres across the globe on Aug 12, 2016.