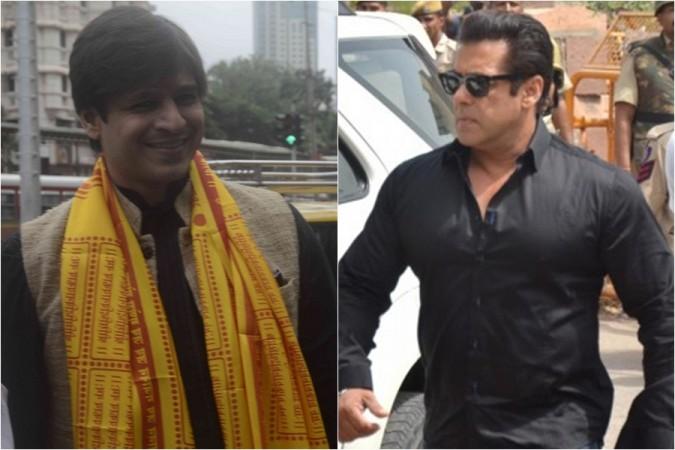 Minutes after Salman Khan was convicted by a Jodhpur sessions court in the 1998 blackbuck poaching case, news of Vivek Oberoi offering prayer and donating Rs 1 crore to Mumbai's Siddhivinayak temple had started doing the rounds on the internet. The actor got massively trolled for his reaction on Salman's verdict.
But did Vivek Oberoi really donate Rs 1 crore to the temple to celebrate Salman's conviction? Or was that a false news?
The news was tweeted by Republic TV's parody Twitter account with id "@repubIicTv" after Salman was convicted in the 20-year-old blackbuck poaching case.
"Breaking: Actor Vivek Oberoi offered prayer and donated 1crore rupees at Siddhivinayak Temple,Mumbai after Salman was found guilty in #BlackBuckPoachingCase," [sic] read the tweet.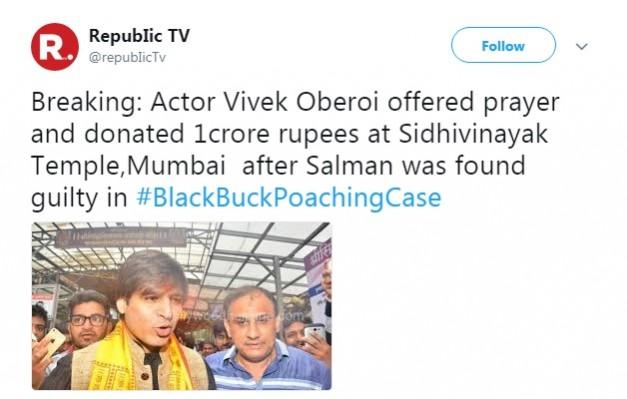 Twitter users had fallen prey to the fake news and began trolling the actor saying he was jealous of Salman Khan's popularity. Many slammed him for not respecting a person who belong to the same profession.
When Vivek got the whiff of the situation he decided to take matters into his own hand and clear the air. Vivek said that the news of him donating Rs 1 crore is false.
"Please don't link my name with Salman's case. News of donating 1 crore by me is totally false. The picture was taken long back at Siddhivinayak temple. This is creating a false perception in people's mind," Vivek said.
In 2003, Vivek had called for a press conference and told the media that Salman threatened to kill him over his affair with Aishwarya Rai. The infamous press meet is often termed as the biggest blow to the actor's profession after which his career went downhill.
"It was like a fatwa issued against me from the powers that be," Vivek had told Mumbai Mirror last year adding that even if he gave a hit, work wouldn't follow. He said that his 2007 film Shootout at Lokhandwala became a huge hit but he sat at home for a year after that.
"When my personal life got messed up, I couldn't keep my eye on the ball," Vivek had admitted while talking about his low phase.