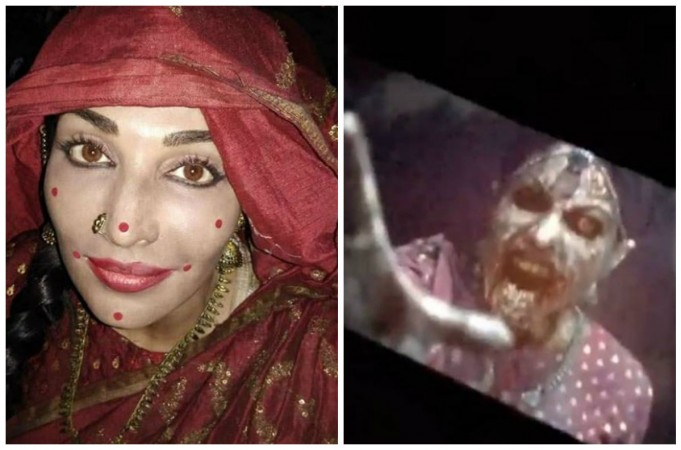 The movie Stree starring Rajkummar Rao and Shraddha Kapoor has surprised all with its excellent success, both commercially as well as critically. The movie has impressed the audience with its humour and also with the horror quotient.
The character of Stree, which is a ghost, became one of the favourites. Portrayal of the witch that picks up men, leaving just their clothes, got a lot of appreciation. However, not many know which actress actually played the role of Stree in the film.
Although Stree is seen possessing a scary face, the actress who played the ghost is actually immensely gorgeous. It is none other than Flora Saini. Mainly known for her work in South Indian films, Flora is the one who managed to pull off the challenging task.
The actress recently shared some pictures that showed her in the look of Stree. In the caption of the post, she also explained how she was turned into an ugly witch in the movie. Flora said that it was mainly done through VFX. She also praised the sound designer for the engaging background score in the film.
"For those who have asked me so times about how they made me look ugly. Well our stree make up on set basically only involved making her look dirty cos she was supposed to b some 500 years old
But the #ugly #magic the #dirty #desirable stree on screen that scared the daylights out of u is all vfx done by my very talented and dear friend @susheelperis Another person who deserves a lot of credit is the background score by @ketan_sodha ufffff I jumped in my seat even while watching it again was soooo good [sic]," she captioned the post.
Like most people, Flora also did not expect Stree to become such a box office hit. "I don't think anyone of us thought that Stree would do this well. Maybe because it's a horror-comedy. It's new and fresh. It is totally experimental. But the kind of response we have got, I m sure nobody was ready for it," she told Hindustan Times.
The movie Stree is based on a popular folk legend, according to which a female ghost used to haunt the streets of Bangalore in early 90s.