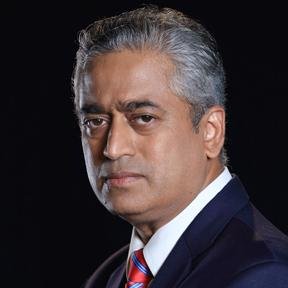 There has been intense speculation brewing over the scuffle episode involving senior journalist Rajdeep Sardesai and a group of Modi supporters outside Madison Square Garden in New York on Sunday, and while most reports suggest Sardesai was first attacked by an irate mob, a new blog post points a finger at the journalist.
Several accounts have surfaced since the incident, with several journalists present at Madison Square garden putting forth their eyewitness account describing how Sardesai was attacked by a mob of people.
Now, a new blog post titled 'When Rajdeep assaulted me' is doings the rounds of the Internet, after it was published on Monday. Written by a blogger named Mahender, the post suggests that Sardesai attempted to "paint himself the victim" in the entire fracas.
"I write this for two reasons: to add context to what is evident from the Zee News video clip ; to avoid a Rashomon like state and rebut Rajdeep Sardesai's attempt to paint himself the victim. He a big fish and has friends in the media, so he may succeed, but my job is to stand up," the blogger writes.
He claims that he "noticed Rajdeep taunt a group of young Indians: He asked them 'Did Modi teach you to do this?" in reference to the 'Rajdeep Murdabad' slogans that the group was chanting.
The blogger then claims that he took on Sardesai calling him "Newstrader No 1", after which Sardesai allegedly walked up to him and started verbally abusing him.
"I was surprised at hearing the abuse and his threatening body language given his ever-cool studio self. I retorted with the same epithet. This led to his turning around and attacking me - grabs my collar and shoves me (guess its his privilege in his un-Modified India). I was left with no choice but to push him back," the blogger claimed.
The blogger sums up his argument claiming it was Sardesai who "indulged in unprovoked demeaning of the Indian PM on foreign soil, started the verbal abuse and physical assault and then claimed victimhood".
The authenticity of the blog post is not verified.
Read the full post here.
In another version of the incident as seen by American journalist James FontanellaKhan, Sardesai hit back at the people because "the group acted like a mob". FontanellaKhan, a journalist with Financial Times, New York, was one of the first to tweet about the incident on Sunday.
He has explained the episode through his conversation on Twitter, as seen here.
@aditi_ca (2) what I can repeat is that a small group of people started shouting against the reporter. Things got heated. He claimed that

— James FontanellaKhan (@JFK_America) September 30, 2014
@aditi_ca (3) he was kicked. I didn't see that. But he was certainly verbally attacked and their presence was intimidating. Then — James FontanellaKhan (@JFK_America) September 30, 2014
@aditi_ca (4) the reporter got confrontational. removed his jacket. there was an exchange of words. it was hard for me to capture everything

— James FontanellaKhan (@JFK_America) September 30, 2014
@aditi_ca (5) i did hear him say asshole. then he walked away. one of the guys in the crowd shouted something. i couldn't hear what exactly — James FontanellaKhan (@JFK_America) September 30, 2014
@aditi_ca (6) the reporter turned back and put his hands around his neck. the scuffle btw the two started. quickly everything cooled.

— James FontanellaKhan (@JFK_America) September 30, 2014
@aditi_ca (7) for context. reporter was called a traitor, the group acted like a mob. if i would have been him i would have felt threatened — James FontanellaKhan (@JFK_America) September 30, 2014
@aditi_ca (8) i think both sides were provoked each other. I hope this helps clarify things.

— James FontanellaKhan (@JFK_America) September 30, 2014
In another version of the incident by Rediff.com reporter Suman Guha Mazumdar, Sardesai was being pushed and abused by the mob close to the entrance of the Madison Square Garden.
This is what the rediff.com reporter said about the incident -
"Things were fine initially. Those who recognised Sardesai took scores of selfies with the television celebrity near New York's Penn station.....Suddenly, Sardesai was hit on the back by someone to which he objected.
"A small group of people then started abusing him and reportedly told him that he should migrate to Pakistan along with his wife, journalist Sagarika Ghose and his children.
"Sardesai objected strongly to this, especially when his children were abused.
"He took on the guy threatening him."
As per the report, Sardesai later told the journalist that "these people still hold a grudge over my reporting after the 2002 riots".
What's more interesting is that, according to rediff.com, Prime Minister Narendra Modi reportedly expressed his displeasure over the incident via businessman Gautam Adani, who reportedly conveyed the message to Sardesai.