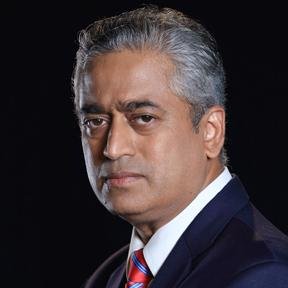 Senior journalist Rajdeep Sardesai, who was caught in a much-publicized scuffle with a group of pro-Modi supporters outside Madison Square Garden ahead of Narendra Modi's speech on Sunday is also facing the heat from several netizens on social media after videos showed him getting abusive as well.
According to reports, a mob of supporters of Modi were peeved at the journalist for taking up touchy issues about the Prime Minister even as thousands of Indians had assembled at the iconic venue for his address. Sardesai was interviewing several members of the Indian community in the run-up to Modi's speech, when the first incident occurred.
Did Rajdeep Sardesai Attack First? New Versions of Incident Go Viral on Social Media
While the video of the first assault on Sardesai outside the venue was circulated online, he also reportedly came under a second line of assault on the same day, as narrated by a fellow journalist.
However, another video has also surfaced showing Sardesai himself getting down to a fistfight with one of the members in the crowd, also hurling abuses at him, to which the crowd reacted angrily.
What had reportedly angered the crowd was Sardesai's tweet earlier in the day, about businessman Gautam Adani staying in the same hotel as Modi's in New York.
Sardesai had tweeted on Saturday, saying, "Guess who is the high profile Indian staying in the hotel where Indian PM is and attending all events?" And later followed it up with another tweet
- "Ans to yday question: Gautam Adani is the other VIP guest at Hotel New York Palace. Many of you got it right!"
The crowd hurled abuses at Sardesai with the chant "Rajdeep Sardesai Murdabad."
Here is the video of the incident that was posted on Youtube showing Sardesai being assaulted. However, its authenticity has not been verified.
Another video shows Sardesai getting aggressive at the crowd.
However, Sardesai's ordeal was not over with that incident, and he came under a second round of abuse by a group of Indians towards the end of Modi's speech as well, as brought out by journalist Achint Sharma in a Facebook post in which he describes the "Story Part II'.
Sardesai's fellow journalist Achint Sharma has come out with a post about the incident that he himself witnessed, in which he highlights how a mob of 50 people attacked the journalist and the camera person.
Here's an excerpt from the post:
The Story Part II ( Right after the event at Madison Square Garden)

I was at Times Square when I heard or in fact read about it as the screen out there flashed a tweet about Rajdeep's episode earlier in the day.

Once done interviewing and usual stuff, I took a walk down to the Madison Square Garden, the Venue where Rajdeep was heckled in the morning.... while I interviewed the last family, I hear some noise, quite different from 'Har Har Modi' or the 'Modi Modi' chant across the 7th Avenue. I turn around only to find Rajdeep Sardesai and a senior cameraperson in the middle of a mob trying to calm down a group of approximately 50 people around him."

"I barge in, just to check if Rajdeep was alright. Yes, he was. Smiling, calm, and trying to reason out a crowd which wasn't prepared to listen to anything he said. Then the pushing and shoving begins. A barrage of abuses follow.

Why? Probably because of Rajdeep's tweet about an influential person staying in the same hotel as Narendra Modi's.

The mob called him names and hurled the choicest of words towards him. When I tried to shield the fellow journalist, I realised, that I became a target as well. This went on for good 10-15 minutes. The NYPD was right there, but won't blame them for not knowing what was going on in the middle of that crowd of 50-odd people. The cameraman had to ensure his equipment was safe, so he was trying his best to fend off a few people who tried to come closer to Rajdeep. This went on for good 10 minutes.

Despite my repeated requests to stay away from Rajdeep, the mob continued to shout pro-Modi slogans right in his face to instigate him. A particular person wearing glasses, and an orange attire, almost shoved his phone into the cameraman's lens to which Rajdeep protested."
Sardesai has urged people to read the account.
Do read Facebook post by Achintsharma83@gmail.com

— Rajdeep Sardesai (@sardesairajdeep) September 29, 2014
Earlier on Sunday, Sardesai had taken to Twitter to vent about the first assault incident.
Great crowd at Modison square garden! except a few idiots who still believe abuse is a way of proving their machismo! #ModiAtMadison — Rajdeep Sardesai (@sardesairajdeep) September 28, 2014
Glad we caught the idiots on cam. Only way to shame the mob is to show them. #ModiAtMadison

— Rajdeep Sardesai (@sardesairajdeep) September 28, 2014