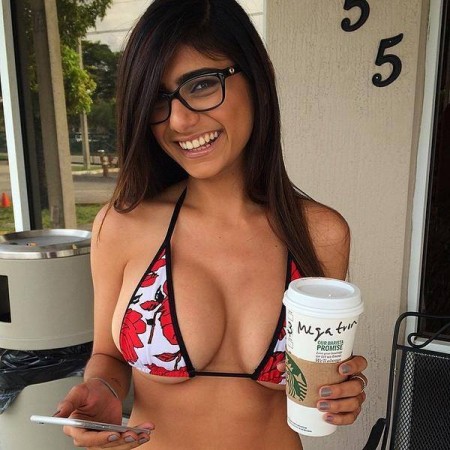 Adult movie star Mia Khalifa has called out NFL player Duke Williams for repeatedly sending her private messages on Twitter.
Khalifa recently posted a screenshot of the messages on Twitter, and according to the private messages, the 24-year-old Buffalo Bills star has been trying to strike a conversation with the porn star since February.
After ignoring his messages for months, Khalifa replied saying: "I am in Miami. With my boyfriend. Who's d**k game is A1."
"Warning: Trespassers in my DM's will be shot and hung out to dry in public," she later added.
Williams took to his Facebook page to respond to Khalifa, saying he was not trying to trespass and pointed out that he was just trying to invite her to a pool party.
"Shutting this down NOW & FINAL... The full conversation wasn't posted. It was ONLY an invite to a pool party & PG. Other people were invited as well. There's no thirst or trespassing here. Trust that I am very hydrated #realtalk," he wrote.
Interestingly, this is not the first time Khalifa, who received a lot of death threats from the Middle East after she made her porn debut in 2014, has called out someone for trying to hook up with her.
Earlier this year, she revealed that a rapper whose name rhymed with "rake" trying hitting on her via Instagram.
"On Instagram, but, nevertheless, it was flattering, but, um, his intentions were obviously clear," Khalifa said during a radio interview in January, according to HollywoodLife. "It was so cringe worthy, the whole thing was cringe worthy."
"I imagine the picture he sent in the message was just him lying on the bed shirtless, kinda like sad looking," the show host said to Khalifa as she burst into laughter. "I'm right, aren't I?" he asked.
"Halfway there," she replied.