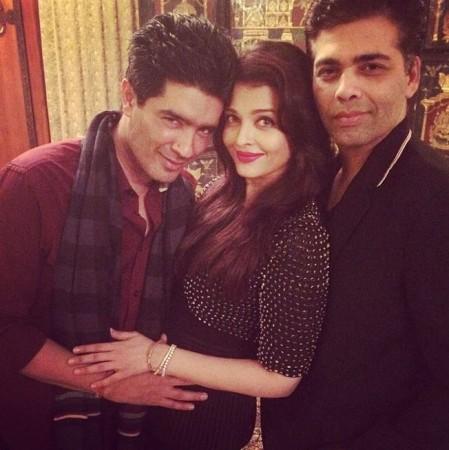 Speculations were rife that designer Manish Malhotra and filmmaker Karan Johar have confirmed their relationship after the ace Bollywood designer "liked" an Instagram post.
However, Manish has dismissed the reports and said that Karan is like his brother. "Karan is like a brother to me. And the rumours are just ridiculous," he told Indiatimes.com.
The rumours started doing the rounds after a Pinkvilla report suggested that the designer has confirmed his relationship with the filmmaker. It was during Karan's birthday when Manish shared a post on Instagram wishing him on his special day. The post attracted thousands of comments and one among them stated, "You guys are the cutest couple."
Now, there shouldn't be anything odd about the comment, but Manish "liking" it might come as a confirmation about their relationship status, the entertainment portal reported.
Apart from the birthday wishes, several other users also commented saying that they look adorable together. "You guys are so adorable! This made me happy . Keep fighting the good fight you two @karanjohar @manishmalhotra05 #onelove #lovehasnoboundaries," one user said.
"They look like a couple," another user commented. "Can you guys please just get married?" a third user said.
"Happy happy birthday my dearest bestest friend @karanjohar have a wonderful year ahead! 25 years of friendship and working together..and many more years to come and may you keep making the most wonderful films and keep being the spirited person that you are #karanjohar #friendship #friendslikefamily #Bff @mmalhotraworld," Manish's Instagram post read.
Whether or not they are dating, we sure know that Karan and Manish are the bestest friends in Bollywood. They met on the sets of Sanjay Dutt-Sridevi's 1993 action drama Gumrah and have been BFFs for more than 25 years now.
Last year, Karan threw a big birthday bash to celebrate Manish's 50th birthday and all the people associated with the designer were invited to the party.
This year, Karan celebrated his 46th birthday on May 25 in New York with Manish, Shweta Bachchan and Kaajal Anand. Unlike last year, this year he celebrated his special day with only friends.